Dog bookends are the be-all, end-all gift for someone who loves dogs and books. Since I love both, I couldn't resist posting this article. I still read most books on paper, and bookends really come in handy around my house and on my desk. They're great for keeping cookbooks from falling over, or on a dining room table as a whimsical centerpiece. Here are the best ones I found.
Jack Russell Terriers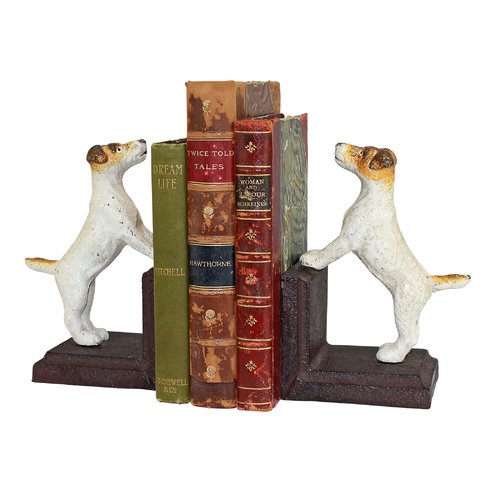 These two little cast iron Jack Russell terriers just aren't tall enough to see over the wall of books! 6 inches tall by 4 inches wide. Weighs 3 lbs. Approx. $39.
>>Affiliate notice: I research every product I recommend, and I only give high marks to the very best. Some of the links here may be affiliate links, which means I may receive compensation from companies if you purchase from them. This is at no cost to you and it helps me keep this website running. So thanks for helping me! I independently own this site and the opinions expressed here are my own.<<
The playful pug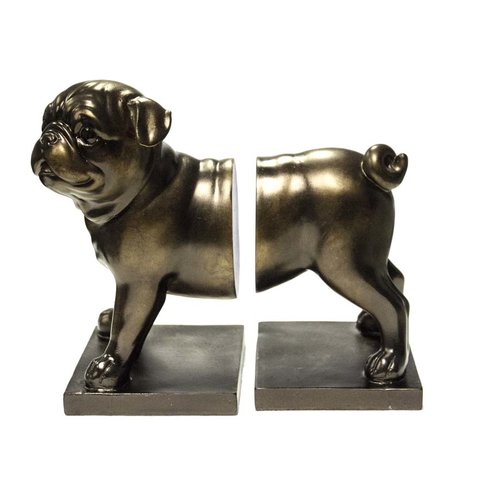 This pug bookend so perfectly captures the impish grin and the adorable, curly tail. It's made of ceramic with a copper-colored finish. It measures 8 inches tall and 9.25 inches wide, and weighs a grand total of 9.25 lbs. $55
Standing Westies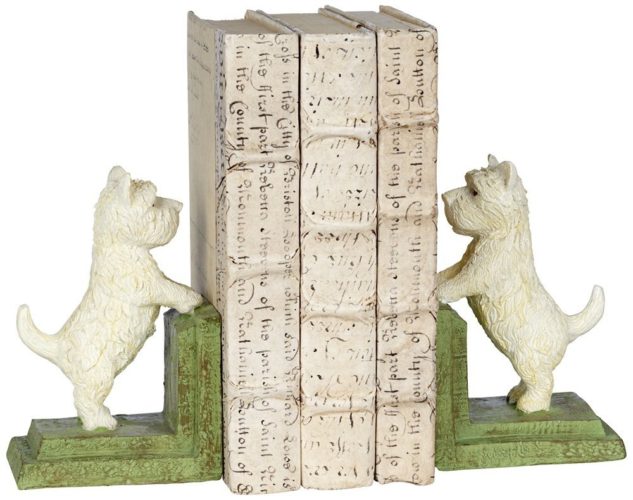 These dog bookends stand 6 inches tall and 4 inches wide. They're made of metal and polyresin. Approx. $39.
Bulldog Bookends
These cast iron cuties look determined to push the books over! They're 6.5 inches tall and 4.5 inches wide. Together they weigh 6 lbs. Approx. $130.
Greyhound Bookends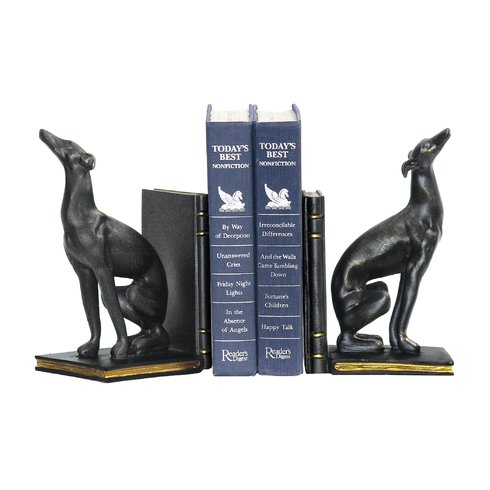 These bookends are 10.5 inches tall and 9 inches wide. They're made of resin that has been painted black. $72.
The cute-but-disgruntled dachshund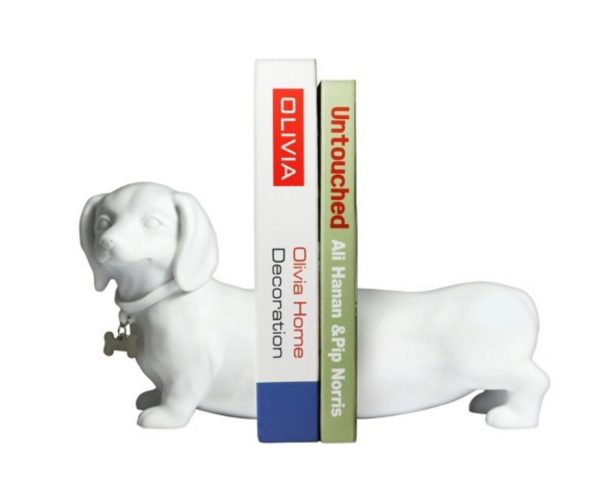 This little dachshund is made by Danya B of CEMENT. He reminds me of my mini dachshund, Cocoa. I love the look on his face — classic. $32.
Very alert Labs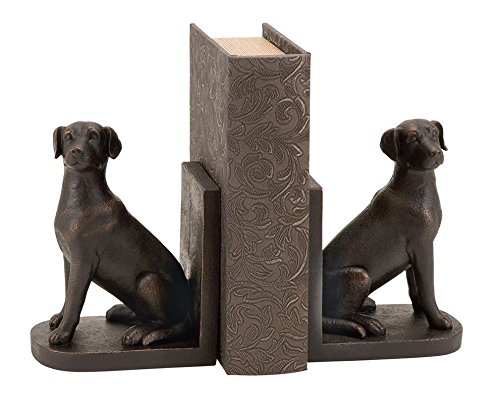 These vintage-looking Deco 79 bookends are made of polystone. They measure 8 inches x 6 inches. $32.
The Curious Dachshund

This dachshund is 5.5 inches tall and 11.25 inches wide. It weighs a whopping 11.25 lbs. and is made of ceramic. The expression on its face captures doxies' natural curiosity. Also comes in green, black, and pink.
Saint Bernards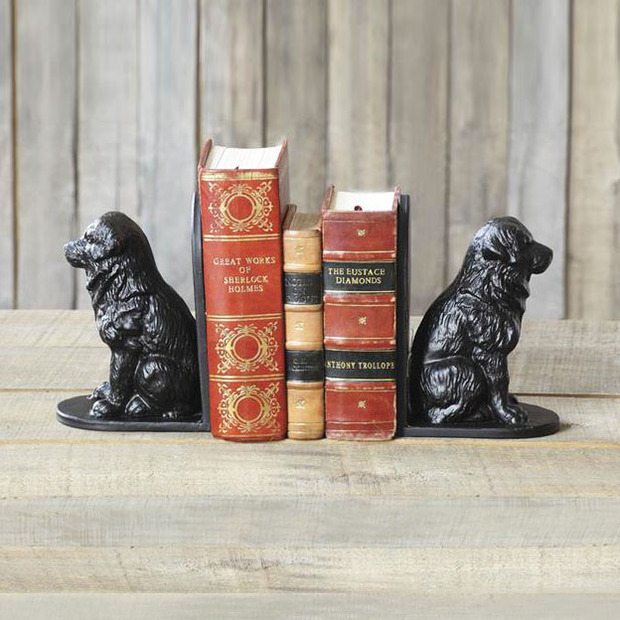 These dog bookends are also made from cast iron and cost $52 at Wayfair. They're by Creative Co-op and the dimensions are 5" H x 3.75" W x 5.25" D. They also weight almost 8 pounds. Do you think they're Saint Bernards?
Green dachshunds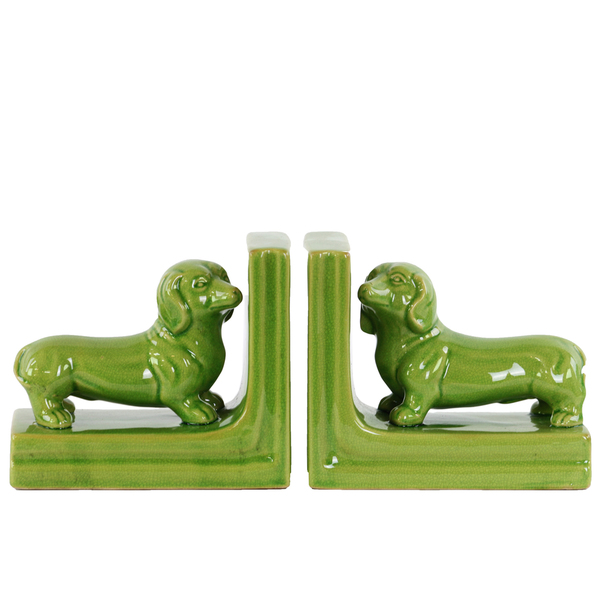 These bright green dachshunds are made of ceramic with a high gloss finish. They're 6.5 inches tall by 7.5 inches wide. $64
Neighborly dogs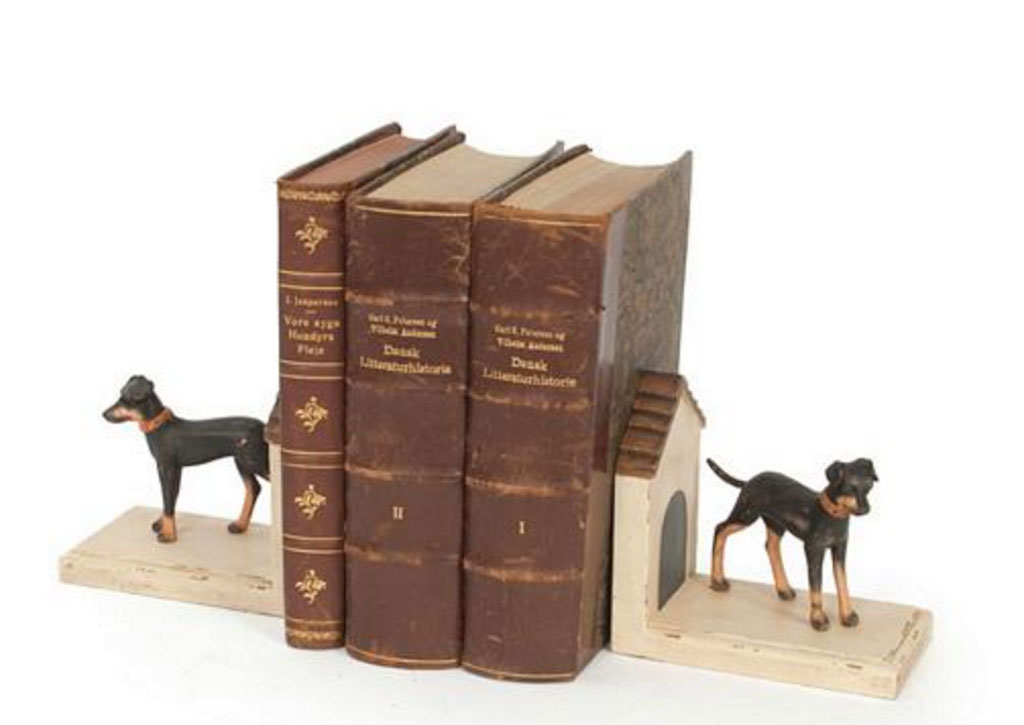 I like how these dogs each have their own doghouse. They cost $103 for the pair on The Classy Cottage website, are made of wood and resin, and are hand-painted.
Hound Dogs in Love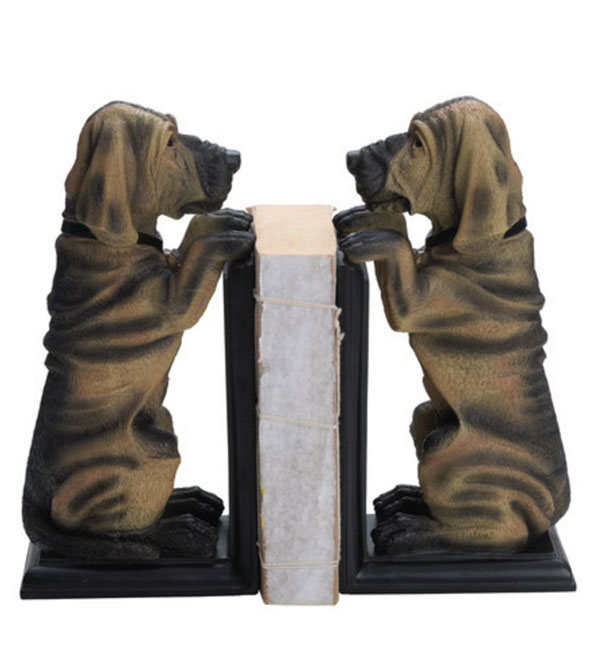 These Bombay Hawthorne polyresin dog bookends are 9.5 inches tall and cost $35. It's adorable how they're staring into each other's eyes!
---
To get a sense of other bookends from past eras, check out these bookends from the 1920s.
Which are your favorite dog bookends? Let me know!