The weird thing about shopping for round kitchen tables is that it should be easy. Right? There are no moving parts to consider, no computerized elements to compare. And yet when I was shopping for my kitchen table, I found it wasn't easy at all. Considering I was a home magazine editor-in-chief for years, it surprised me. I'm used to researching lots of products in depth. (Hopefully this guide, and the tables shown, will make it easier for you!)
But then I realized why  it was so challenging — and I'm guessing you can relate since you're reading this article. First, there are so many round tables on the market it's mind-boggling.
Second, it's definitely one of the most important pieces of furniture in my house. The kitchen table I choose really matters.
More often that not, it's the place where my family, guests, and I spend the most time chatting. Hanging out in the kitchen is cozy. It makes people feel welcome. And there's something extra welcoming about round tables.
I swear, my kitchen table gets more visitors than my living room sofa!
And with no further ado…
How to judge round kitchen tables:
1. Table legs: shape and type
I put this variable first because it matters so much. Your kitchen table has to go with your style in the rest of the house. It's a chance for you to bring a real decorating element into a very functional room. There are many different variations for table leg types, but here are the most common you'll see:
Round kitchen tables with single, pedestal bases
I think these have a more sculptural look and can really add a focal point to your kitchen. I also love the fact that everyone can easily fit their legs under it.
This 48-inch table could go in a more traditional or transitional room. You could also dress it up with very contemporary chairs if that's your look. It's approx. $440.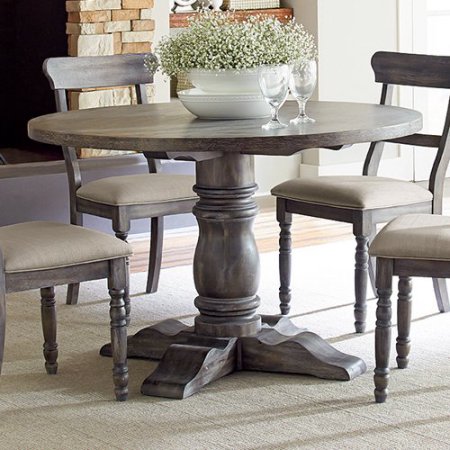 >>Affiliate notice: I research every product I recommend, and I only give high marks to the very best. Some of the links here may be affiliate links, which means I may receive compensation from companies if you purchase from them. This is at no cost to you and it helps me keep this website running. So thanks for helping me! I independently own this site and the opinions expressed here are my own.<<
Here's a similar round dining table that's 53 inches, and is made of solid mango wood with an antique walnut finish. It costs approx. $699.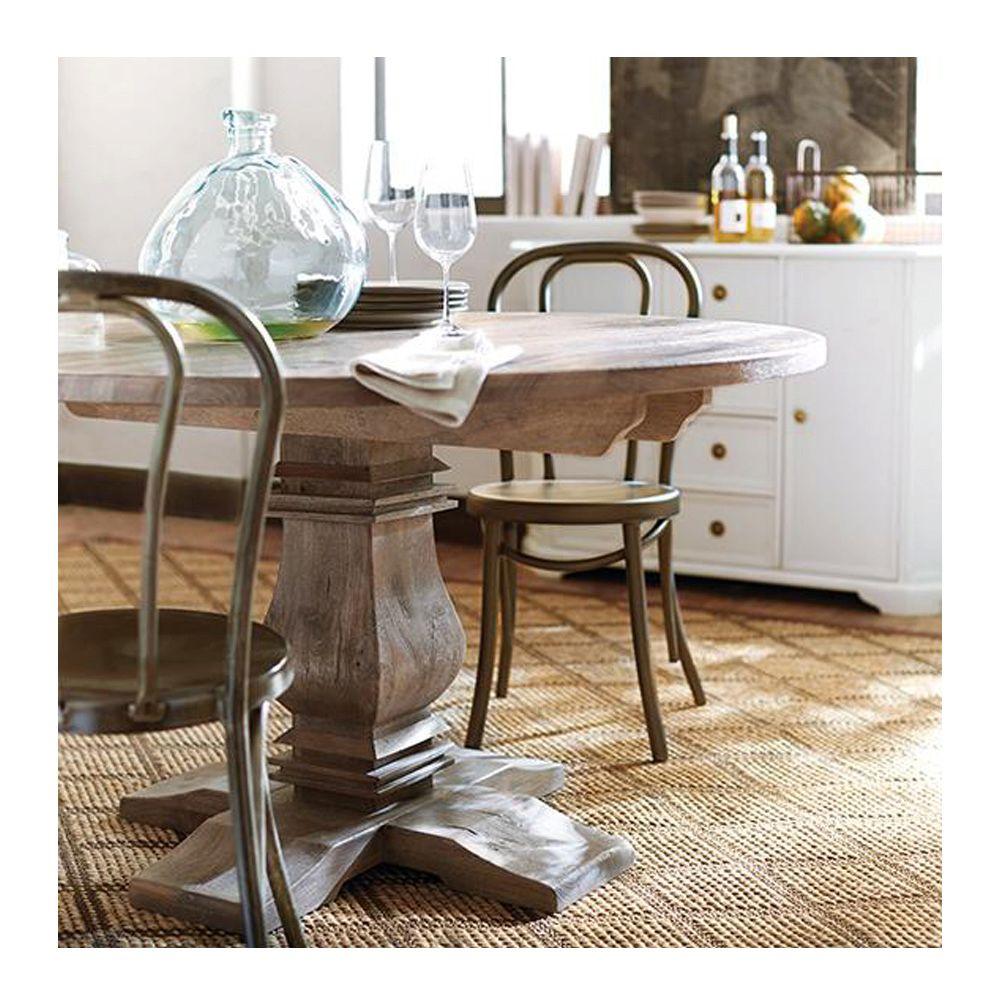 Here's another pretty table with its elaborately carved pedestal. It's made of solid mango wood with a sandblasted antique finish. The base looks like a pineapple, which is an ancient symbol of welcome. It costs approx. $799. You can find out more about it here.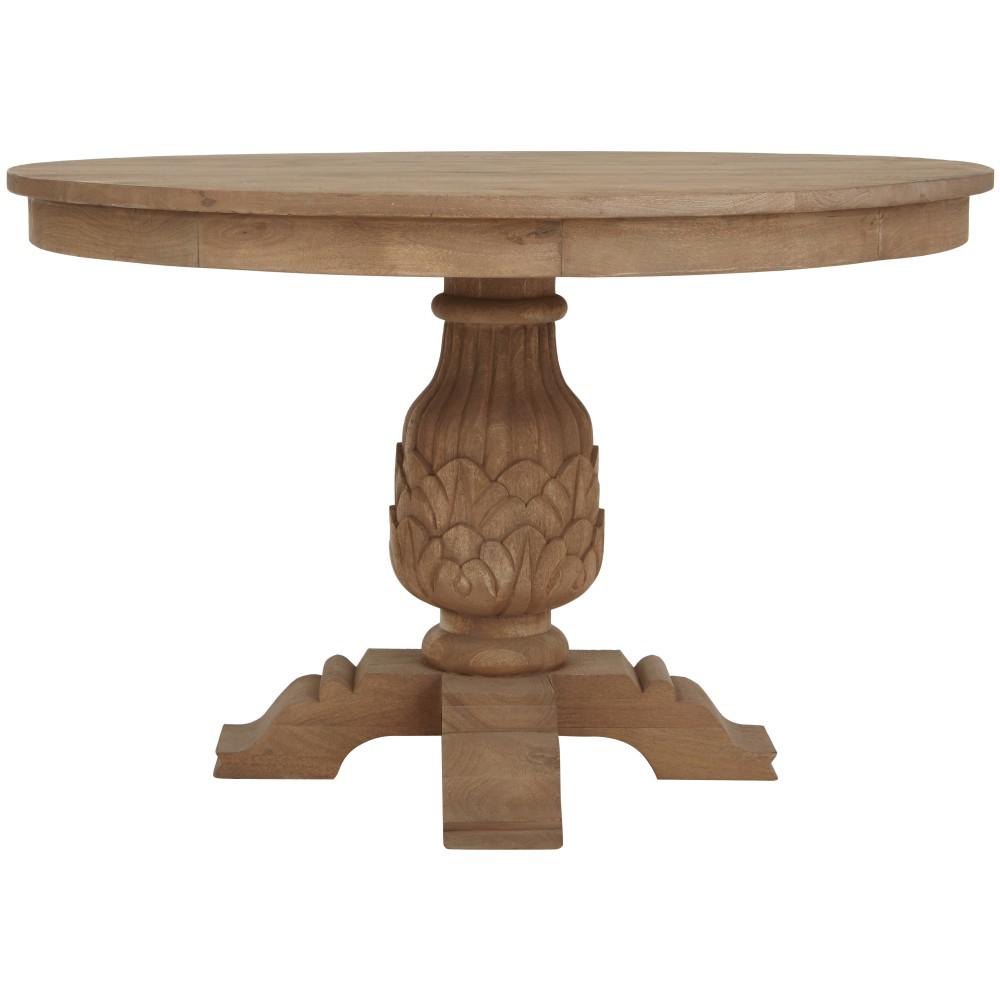 This table is a very traditional style, with the two-tone finish. You can find this in a wide price range based on the materials used. This 42-inch table approx. $250 and is made of wood, manmade wood, and veneer.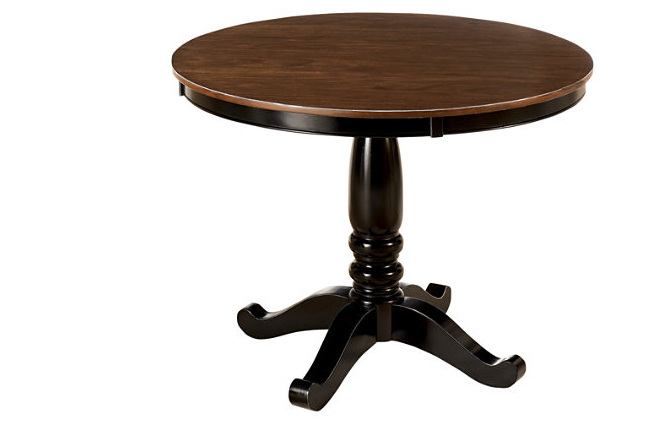 This table is interesting. It's 47.6 inches and costs $499. It's made of plywood, MDF, and veneer — you'd never know from looking at it!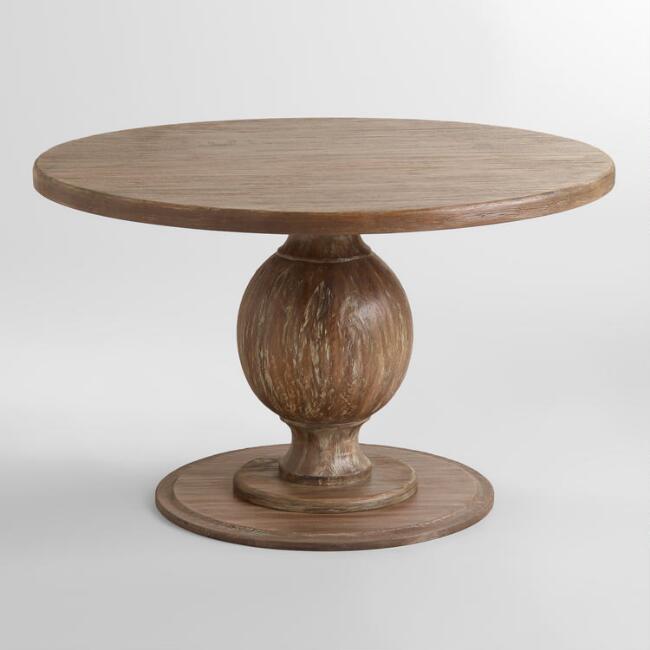 A modern-looking version of the pedestal base looks more like this table made of white fiberglass. It's reminiscent of the famous Tulip Table by Eero Saarinen from the 1950s. It costs approx. $250.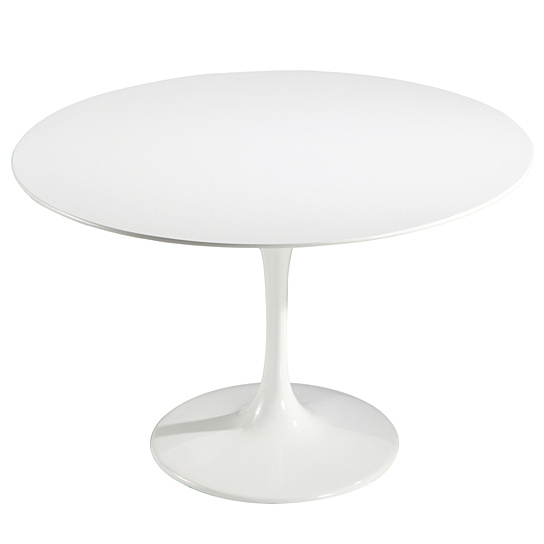 Round kitchen tables with four legs
It's often more traditional-looking than a pedestal base and it has a lighter look. But if the legs are highly sculptural, they can add a lot of whimsy and decoration.
I love this 48-inch table with a natural stonewash finish. It costs approx. $499.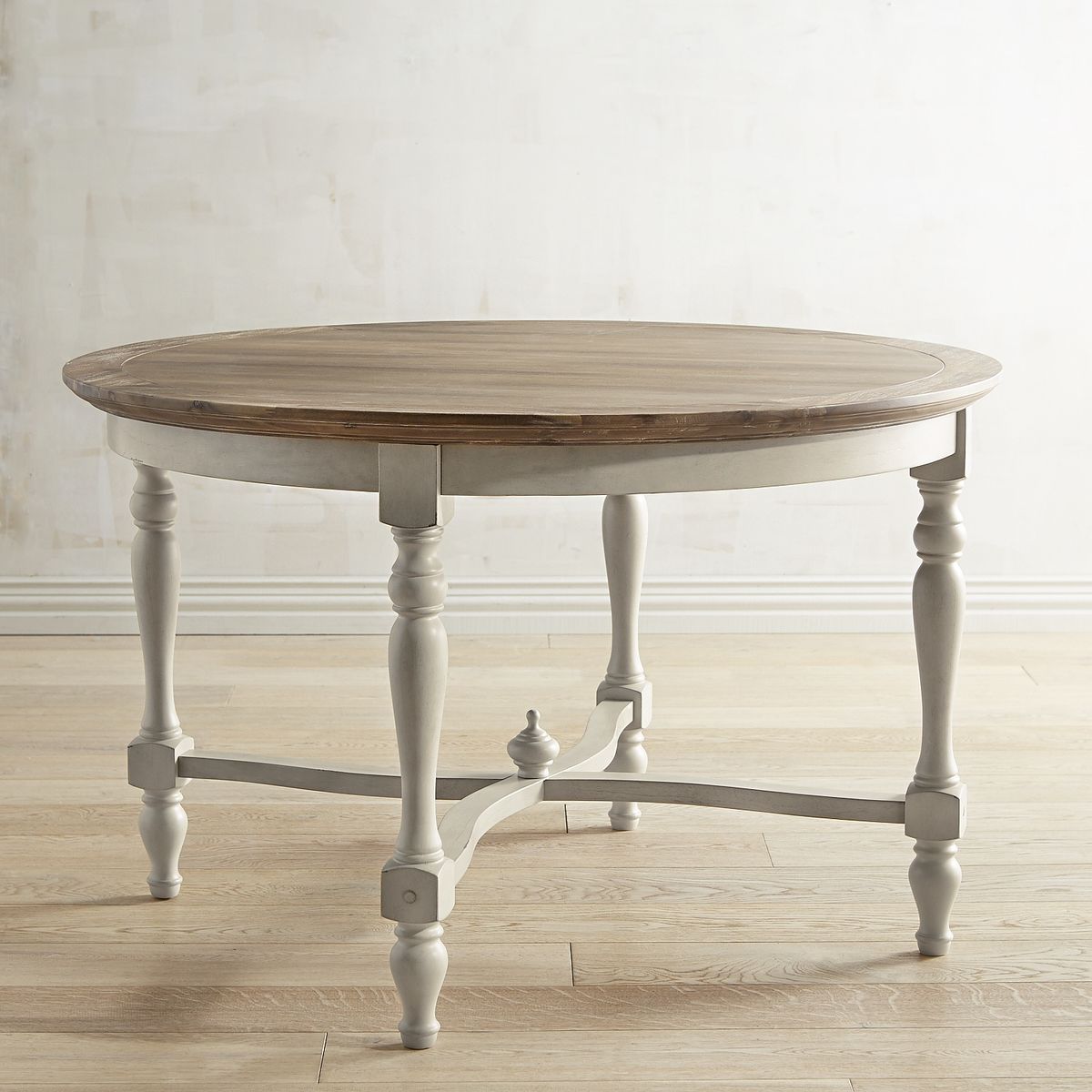 Another version of the four-legged table has the legs curving inward toward the base. Like this 48-inch table in linen gray that costs approx. $400: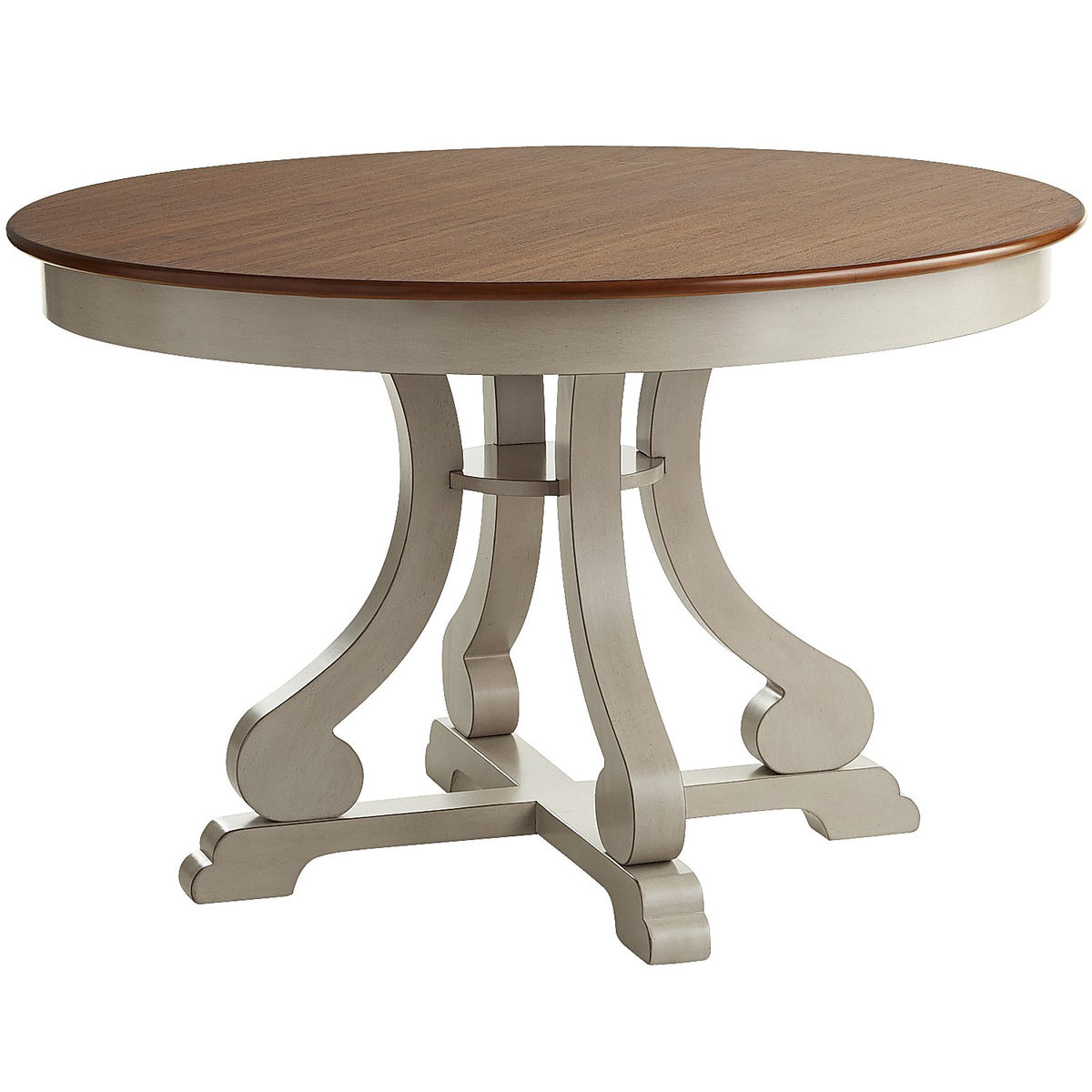 Here's the antique white version, which has more of a very tailored look that I think would go great with any room: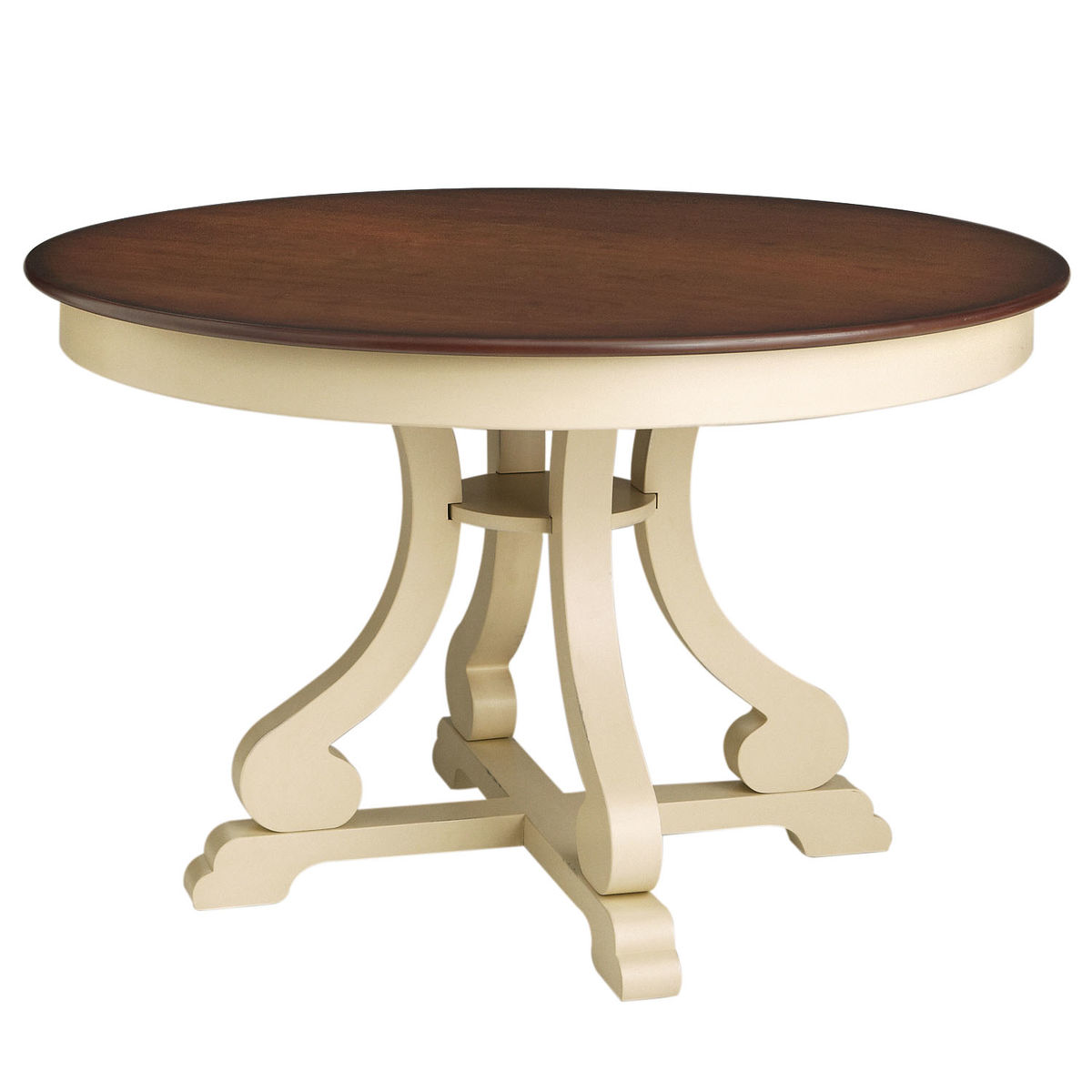 Round kitchen tables with X-shaped legs
Again, I think these look quite sculptural. They're often described as "farmhouse" style, but on a round table these legs can make it look pretty modern. Great for people who like "transitional" style.
This 42-inch table for approx. $349 illustrates this category well: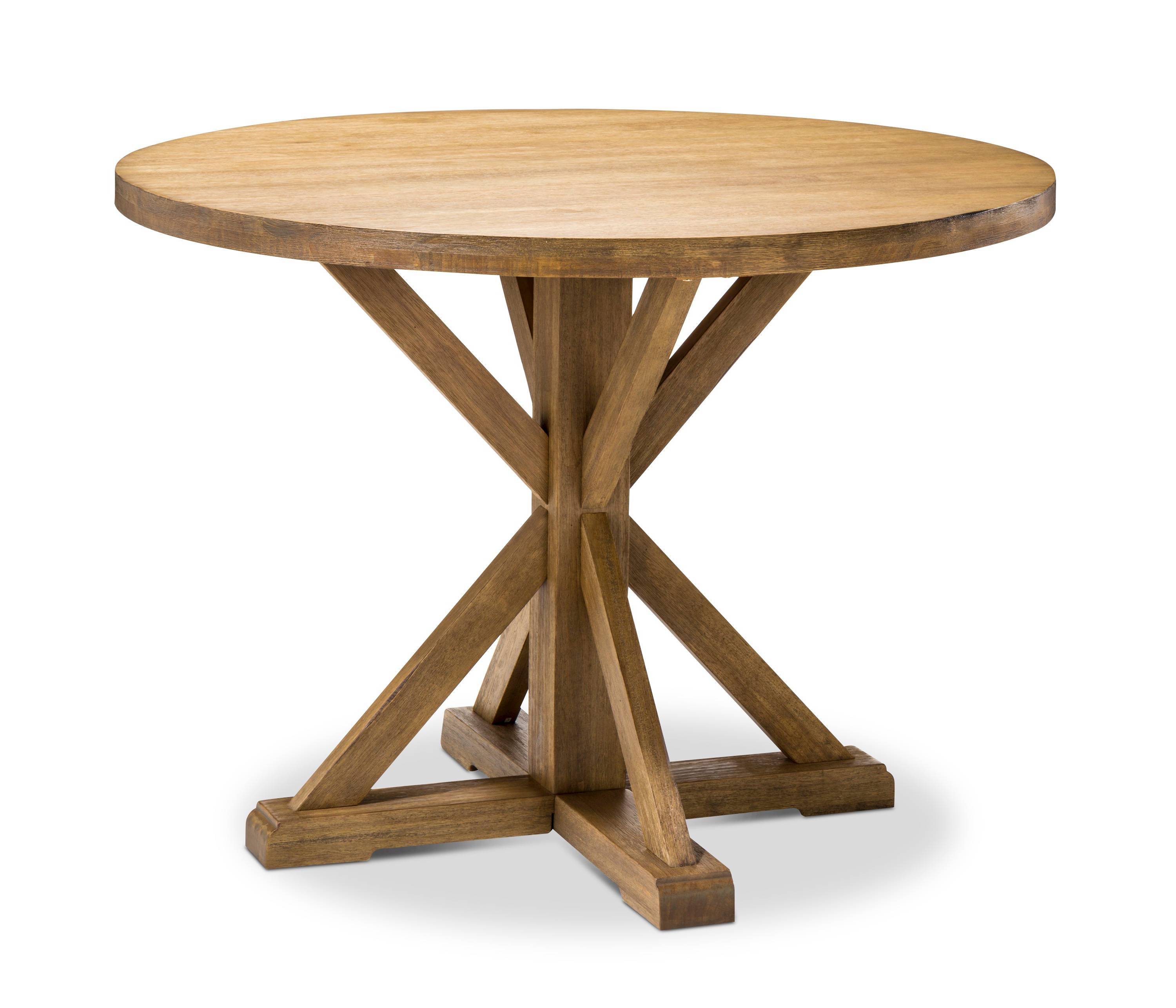 And here's another! This solid hardwood table has oak veneer and a washed linen finish. It's 48 inches, but has a leaf that extends it to 54 inches. Approx. cost $799 (chairs not included).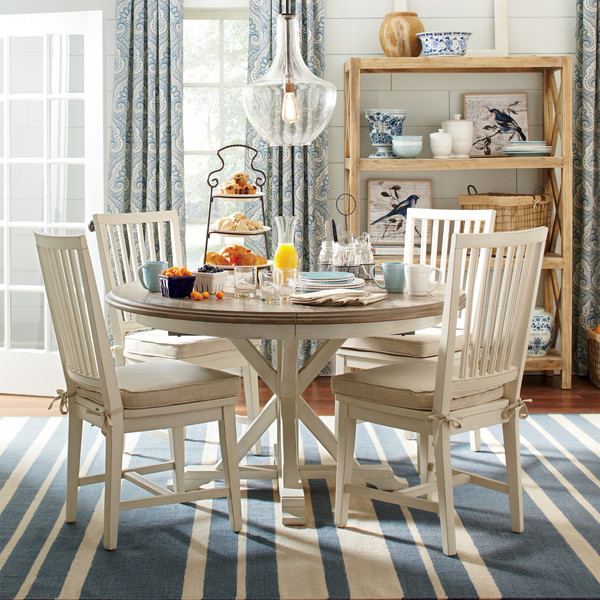 2. Price
The price range on round dining tables is vast, from under $100 to over $1,000. Based on my research, the dividing line seems to be at around $500. Many cost less than that. After you hit the $500 mark, prices often jump to $800.
3. Size
…and by that I mean the diameter of the table top. Most round tables come in these sizes:
36 inch (seats 2 to 4 people);
42 to 48 inch (seats 4 people);
60 inch (seats 6 people)
72 inch (seats 7 to 8 people).
Keep in mind when you're measuring that you need to consider the amount of space around the table. At the very least you need to plan on 36 inches between the wall and the table edge, to allow people to push their chairs back. But, 42 to 48 inches is even more comfortable.
4. Materials and colors
You got the full range of materials here, from solid wood and engineered wood, to plastic, stone, iron, and more.
In some cases the table top matches the legs, but not always. Ask yourself before you buy: Do the table materials go well with my floor? Try to imagine the table sitting on top of it, as if you're seeing it from across the room. Are you placing the table on tile, stone, wood, a rug, or carpet?
Also, think about how the colors will look against each other. If you have a dark floor and a dark table, they'll blend together if you don't add a rug. If you like higher contrast than that, you may want to get a lighter table.
5. Do you need a matching set?
I like mixing and matching tables with chairs, to create a slightly more eclectic look. But lots of people prefer to buy a matching set. I don't think there's a right or wrong to this; it's just a matter of your own style.
But if you do want a matching set, then you have to take a good look at the chairs when you're considering the table. Will the chairs look good with your other furniture?
And that's pretty much it. Of course, if you're looking for an antique table there are other things to consider, such as the age and provenance. But for newly-made tables, focusing in on these variables should help you narrow down the choices.
---
Got questions about round kitchen tables? Leave a question below and I'll find the answer!