Squarespace is a website builder known for its beautiful templates and ease of use — even for people who aren't Web designers. I'm telling you: You can be a complete newbie and still get a stunning Squarespace website up and running in a short amount of time. In this Squarespace review I'll go over all the reasons why Squarespace is a fantastic option for beginners and advanced users alike.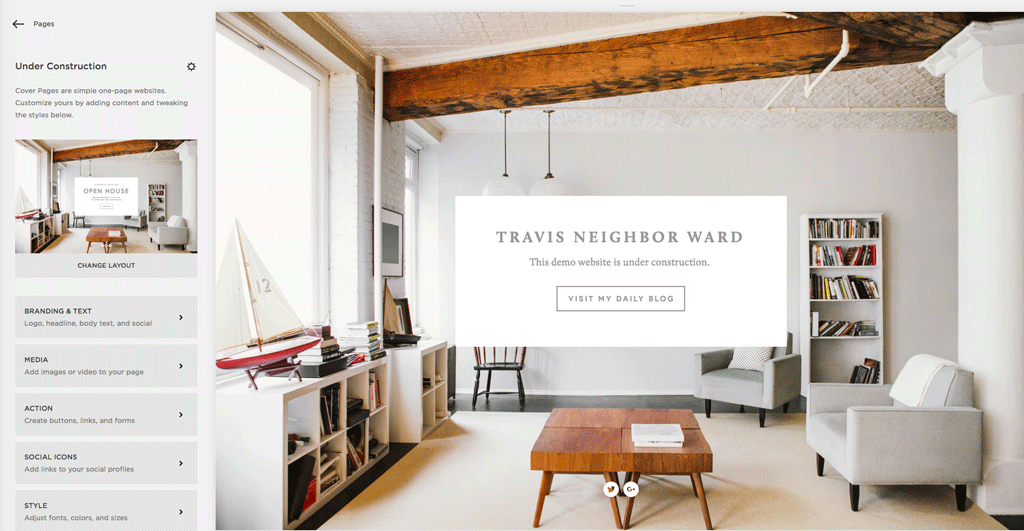 I love designing in Squarespace but it's very different from WordPress, which I also love (I designed the website you're on now using WordPress). I'm self-taught and I know you can learn, too! There are many good reasons why more than 1 million people choose it for their websites. Here are the main ones.
>Also, get my FREE CHEATSHEET to help you format photos for Squarespace, to make your website load faster:

Squarespace templates are beautiful
Squarespace comes with lots of templates you can choose from. They're included as part of  every account, so you don't have to pay extra for them. They also have a separate collection of templates for designing Squarespace Cover Pages, or landing pages.
The designs of these templates are gorgeous if you like minimalist, modern designs. They incorporate all the functionality you need, but keep the final look clean and polished. (And if you do know coding, you can always add custom CSS to alter styling.)
These beautiful templates are one reason why many design-oriented businesses love Squarespace for their websites. Even if you use their templates as is, visitors will assume you paid a designer to custom create it for you.
You can make great landing pages with Squarespace Cover Pages
Squarespace Cover Pages is a feature that comes with your website, and they're easy to use once you know how. Plus, after you've learned you can use them over and over again to create as many landing pages as you want.
Some people use Cover Pages to create single-page websites. Others use them to create standalone pages on their website to promote a product, a service, an event —basically anything. You can add things like videos and podcasts, custom tweak every little element, add call-to-action buttons, and even add highly detailed email forms. They ROCK.
Squarespace hosts your website for you
In other words, you don't need to sign up with an Internet hosting service. The Squarespace pricing plans include all the website-building features AND the hosting. That means you only need to turn to one source (the Squarespace support team) if you run into any questions or issues.
You can buy a custom domain through Squarespace. If you already own a custom domain that another host has been managing for you, you can transfer it to Squarespace without hassle.
But you do need to pay that monthly fee to Squarespace per website. So if you're looking to build a large number of websites, it could end up being more expensive than building them on WordPress with a hosting service.
Squarespace websites are mobile-responsive
Mobile-responsive websites automatically resize based on the mobile device being used. This is VERY important. Have you ever visited a website on your cell phone, only to discover that you can't read half of what's there? That's because the site isn't mobile-responsive — and isn't worth trying to read.
Aside from the written content on your Squarespace website, the images will resize as well. Since so many people now visit websites primarily on their mobile devices, this is crucial to your success.
Of course, this also means that things will sit differently on the mobile view of your website. So you may see that the position of an image changes. That's normal for mobile-responsive themes and is well worth the benefits.
>>Don't forget to download my FREE CHEATSHEET to help you format photos for Squarespace, to make your website load faster:

What you see really is what you get
This is cool: As You're editing in Squarespace, you'll see exactly what it will look like once you have published it. So if you want to change content or images, even styling, you can do it right on the same page where it appears.
The one exception: When you're designing on a desktop computer, there's no mobile preview. What I do is stay logged into my website on desktop and mobile, so I can check mobile after I make changes on the desktop.
You can drag and drop all you want
One of the best things about Squarespace is that it includes a drag-and-drop feature, which enables you to add and move things without ever touching the background coding. For people who don't know how to code, or do know it but don't want to bother with it, this is very useful.
Drag and drop is great even for people who have never built a website before. It's a lot easier than WordPress, even if you're using a drag and drop plugin like Visual Composer.
There are tons of easy styling options
People often choose Squarespace because it offers so many more EASY styling options that other website builders.  You can usually add these same options by using custom coding. But Squarespace makes it possible at the touch of a button.
This means you can easily tweak things like fonts, colors, spacing between characters and lines, photo filters, the sidebar width, and more. You can edit photos and videos within Squarespace—and by that I mean everything from correcting redeye and blemishes on people's faces, to changing the size of photos, the brightness, the contrast, and more.
You can optimize your site for SEO
Search engine optimization, or SEO, is so important when it comes to getting search engines like Google to find your website. On Squarespace you can add SEO for simple things like headlines, photos, and descriptions of your website.
Squarespace automatically creates a sitemap for you. This is something you can submit to Google Search Console, and it enables Google to crawl your website better. This map tells Googlebot what's on your site, so it makes it easier for it to find things when people do searches.
There are built-in website analytics
You can watch the traffic on your site through a built-in analytics feature. So you can see things like:
how many people visited your site in a specific month, week, or day
which of your content is the most popular with your visitors
which other websites referred visitors to your website
how people arrived at your site (such as via a desktop computer or a mobile device)
You can use Squarespace to create an online store or just sell products on your website
Squarespace has templates geared towards online stores, so you can have fun setting yours up and knowing it's going to look good. Even better: There's no limit to the number of products you can sell on your website! That includes physical and digital products, as well as services.
Even better than that: Squarespace comes ecommerce-enabled. So you can accept payments during various payment processors, such as Stripe, PayPal, and Apple Pay. (Note, if you want to use ApplePay you will need to read up on how to do it; it requires turning on an integration feature. But it can be done!)
This means you don't need to set up a separate shopping cart feature outside of your Squarespace store.
Even if you don't want a full-blown store, you can insert a Products block and Squarespace will handle the selling details for you.
Plus, you can build a custom form to collect all the information you need from your customers. You can also use this for things like selling tickets to events.
You can:
manage inventory
enter product variants (for instance, if you have different colors or sizes of a given product)
offer different shipping options
create different sales tax settings
send automatic "thank you" emails to customers
share your products on social media at the click of a button
integrate with MailChimp, so customers are automatically enrolled in your newsletter
create coupons
look at advanced commerce analytics, which you can filter and sort
Squarespace customer service is free and live!
Squarespace launched in 2004, which is a good sign. But get this: They have a 24/7 support team that you can contact anytime, any day. No joke! You can chat with them live, or you can email them and they'll reply within one hour. In today's world where customer service often stinks, that's a huge benefit.
Squarespace isn't expensive
The company offers four pricing options that start at $18 per month and go up to $40 per month. The higher-priced options ($26 and $40 per month) are for online stores. Keeping in mind that you're getting gorgeous templates at no extra cost, website hosting, plus souped-up features and free 24/7 support, it's a great deal.
It's not expensive, but there's no free plan, so you're going to have to pay from Day 1 (that is, after your initial, brief free trial). This is the only reason why I didn't give it 5 stars. Because I feel like they could have an even cheaper plan than $12 per month for people who want to have a bunch of sites.
Here are the website pricing details (note that I updated this Squarespace review in March 2018):

Here are the online store pricing details:

If you like this Squarespace review, you may also want to read these:
Ready to sign up for a Squarespace account?
Go here to access the Squarespace home page.
Got questions about my Squarespace review? Leave a comment!