Borage (also known as Starflower; Latin name Borago officinalis) is one of the old-fashioned plants you'll find in traditional cottage gardens. It has bristly stems, grows in clumps, and self-seeds. For the gardener that means flowers throughout the season!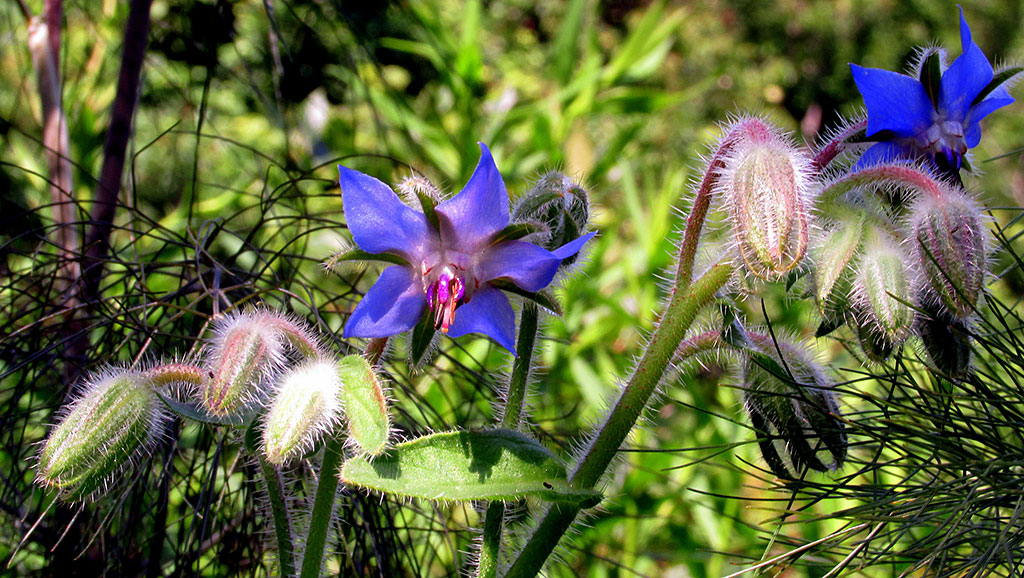 The coarse, hairy leaves and star-shaped flowers are edible, though I've never tried them; people say they're best in drinks, salads, and on desserts. You pick the leaves in spring and summer when the blooms appear.
Jeff Spurrier of the Los Angeles Times has said Borage tastes like "cucumber with a splash of honey," and cautions that pregnant and nursing women shouldn't eat them. Some people consider it a sedative and have been known to make tea from it, as well as candy.
You can direct sow Borage seeds in the soil, both in spring and fall. It's also great in herb gardens, beds, borders, and as companion plantings to strawberries, tomatoes and squash, where it attracts bees while repelling destructive insects.
Borage Plant Facts
TYPE: Annual
LIGHT REQUIRED: Full Sun to Partial Shade
HEIGHT: 12 to 36 inches
SPREAD (WIDTH):  12 to 36 inches
FLOWER COLOR: Blue
FOLIAGE COLOR: Dark green
SEASONAL DETAILS:  Blooms early to late summer
SPECIAL FEATURES:
Low maintenance
Good for containers
Attracts butterflies
Attracts beneficial insects
Attracts birds
Deer tolerant
HOW TO PROPAGATE: By Seed
COMPANION PLANTINGS:
Tomatoes
Strawberries
Squash
---
Do you grow borage? Any suggestions?