Who says that a small bedroom has to look small? Bah humbug! You don't need vaulted ceilings and loads of extra floor space to make your bedroom look bigger. What you need is an understanding of perspective, and how to alter it in subtle ways, so that your room can feel spacious and comfortable at the same time. I wish I knew this when I lived in a tiny studio apartment in New York City years ago!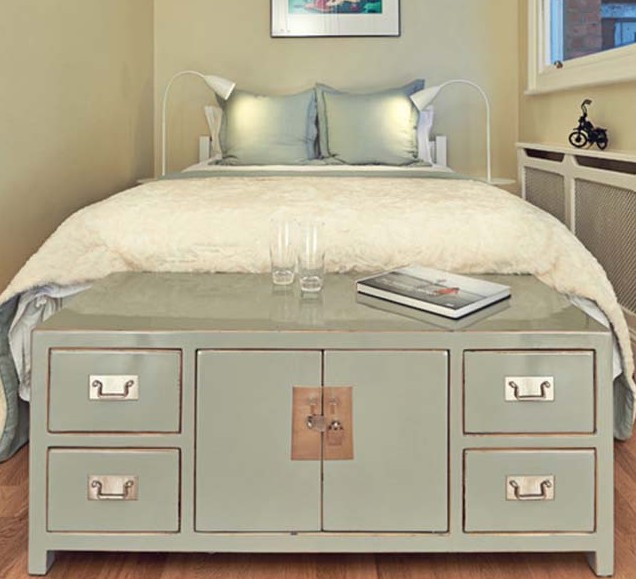 Here are 10 designers tricks you can use to make your bedroom look bigger–and it doesn't have to take a big chunk out of your decorating budget.
1. Add horizontal lines
Horizontal lines draw your eye across a room, giving the sense that it goes on and on. Even in a very small area it can add that extra bit of visual room. Great example: The horizontal paneling around the bed in this very small sleeping area by Riverside Shepherd Huts Ltd. Other great ways to add horizontal lines include using striped bedding or a striped rug.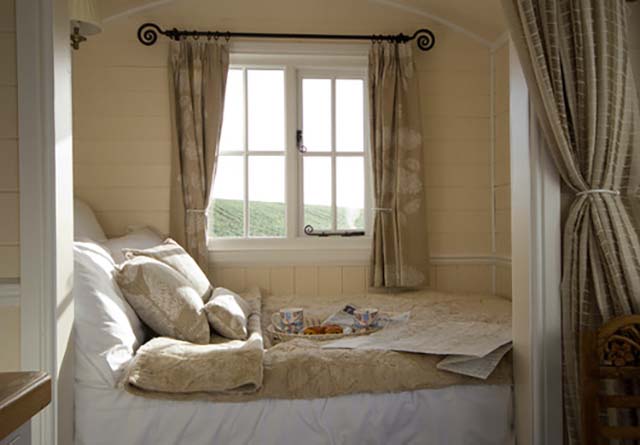 2. Add floor-to-ceiling bookcases or cabinets
You'd think it would make the room feel smaller, but actually it does just the opposite by drawing the eye vertically.  Rather than filling a bookcase with books, consider buying some pretty boxes and baskets that will give you extra storage space while hiding clutter. In the room shown below, The Wee House Company surrounded the bed in this tiny room with cabinets on either side. Combined with the dark blue wall in the center, it really distracts your attention from how narrow the space is.
3. Coordinate patterns
Sometimes too much pattern can be a bad thing in a small room because it can overpower the space. But when used sparingly, and in a coordinated way, it can work well. Here's a great example by Chandos Interiors in Houston, TX.
4. Hang art on the walls
Wherever you place a great painting or photograph on the wall, it will draw in the attention–and draw it away from the size of the room. To illustrate this point in the extreme, we chose this bedroom by Sarah Phipps Design. Notice how that single painting above the bed makes your eye zip past the narrow walls, making it feel like a larger space.
5. Choose bold accent colors
Like artwork, bold accent colors will pull your attention into the space and focus it in one spot. That color could come from just about anything: a headboard, a vase on a nightstand, or accent pillowcases. Look at how the Los Angeles-based design firm Glamour Nest used color in the bedroom nook below. It really adds interest and keeps the eye moving!
6. Create symmetry
Decorating a small bedroom asymmetrically doesn't mean it's going to look smaller, but adding symmetry can really work to your advantage. We've never seen a small bedroom that better illustrates this than the one shown here. It was designed by Philip Mitchell Design, and we think it makes the most of the space beautifully with the pair of beds, matching bedding, and symmetrical artwork.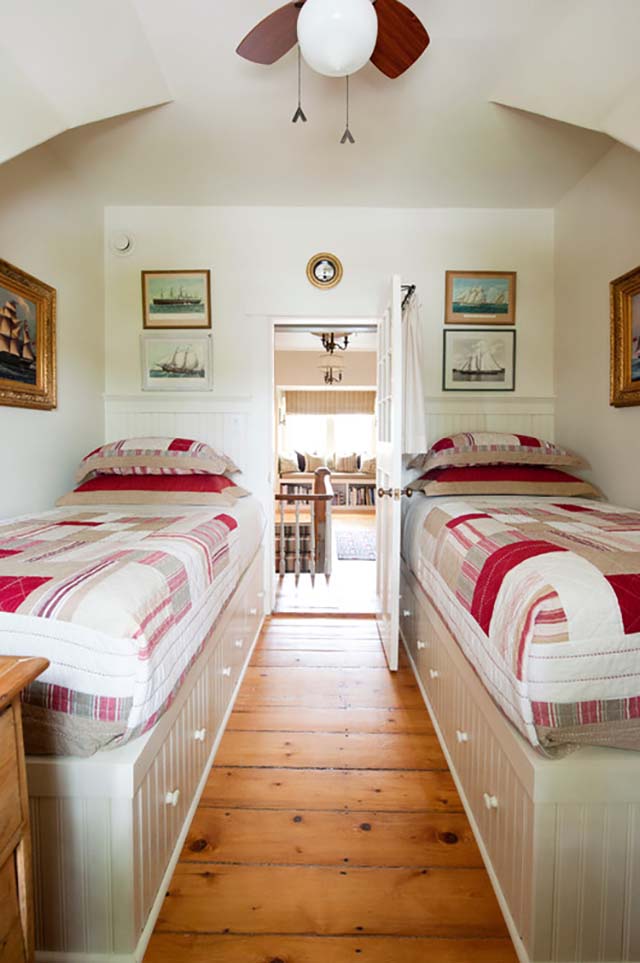 7. Hang mirrors on the wall
If the mirrors are near windows, they will reflect the light. Plus, they  make the room seem like its goes on, where otherwise the wall would stop your eye from wandering. In Santa Cruz, CA, Shannon Malone hung a mirror beside a bed (below) and it added a lot of extra shine to the small room.
8. Store your clutter
Having lots of stuff lying around the room looks messy, and messy equals smaller to our eyes. Since your space is at a premium, try to get rid of anything you don't really need in the bedroom; if you're in the market for a new bed, consider buying one with built-in drawers. In this bedroom designed by Mia Karlsson Interior Design for an apartment in Primrose Hill, in London, a beautiful painted storage chest at the foot of the bed gives it a sense of elegance and adventure.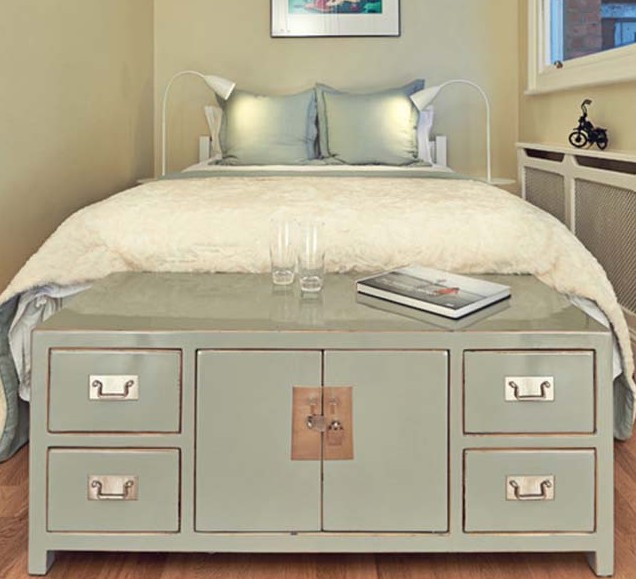 9. Lighten up the floor
Light floors will reflect any natural light from windows in the room, and carry the eye across the space. That can mean buying a light-colored rug or wall-to-wall carpet, or refinishing your dark hardwood flooring. The bedroom we included here, by Australian design firm Tanna Green Architects, is a perfect example.
10. Paint the walls a cool color
Blues, especially, tend to recede while warm colors tend to close in. That doesn't mean you need to paint your walls a solid blue; you can also get a white with a cool gray or blue undertone. Also, don't forget to bring that cool color out someplace else in the room, no matter how small–a pillow, a picture frame. It will make the space feel more coordinated. In this bedroom by Furnished by Anna (shown below), the pale blue walls work well with the single wall of wallpaper, plus the lamp shades pull you in.
What are your tricks for making a bedroom look bigger? Please leave a comment.