I've always admired how interior designers can whip up beautiful, original dining room table centerpieces, often with so little. And that's what I love about these 10 examples. They prove that you can easily add a striking element to your room without needing to spend a ton of money. A lot of it comes down to pretty ways to display flowers and candles! Here are the dining table decor lessons I've taken away from them.
1. Go a little wild with your centerpieces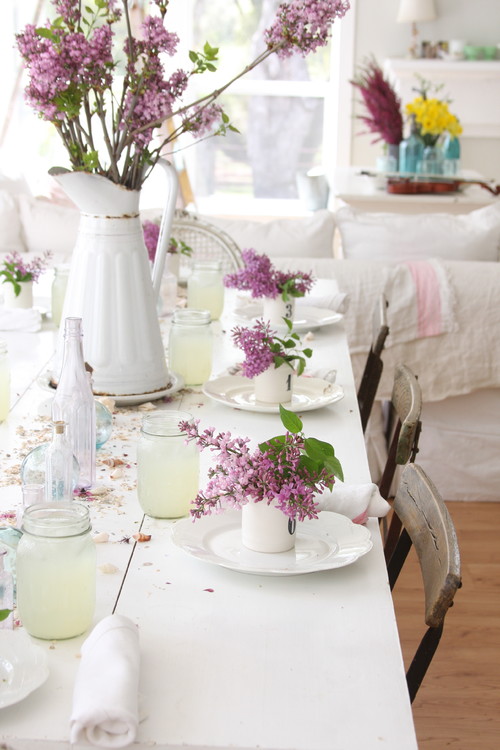 How beautiful those lilacs look in that milky white, antique French enamelware pitcher, surrounded by vintage glass bottles and fallen petals!
Dreamy Whites decorated this for Easter, but you could do it during any season by picking different flowers. Make sure, though, to choose something that maintains a wildflower feeling; if you let it get too formal you'll lose all the fun.
Here's another fun idea that I think captures that feeling, but lies flat on the table. It's a custom centerpiece wreath by Westerwisp. Starts at $26.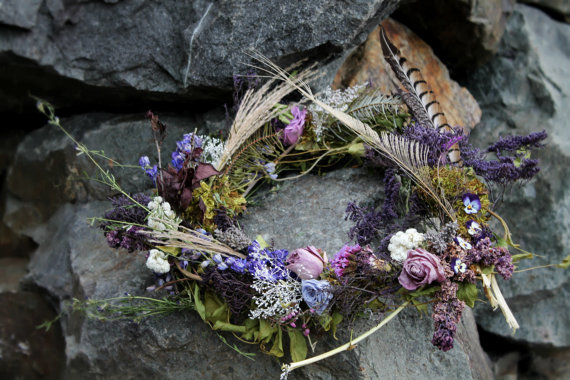 >>Affiliate notice: I research every product I recommend, and I only give high marks to the very best. Some of the links here may be affiliate links, which means I may receive compensation from companies if you purchase from them. This is at no cost to you and it helps me keep this website running. So thanks for helping me! I independently own this site and the opinions expressed here are my own.<<
2. Place miniature cacti in glass jars
I like the way Brittney Fischbeck of Abodwell Interior Design placed these succulents inside the hurricane-style vases as dining table centerpieces — almost like a tiny conservatory right at your fingertips. Really they'd look great in anything made of clear glass. But the vase stems allow the pretty green color to stand out, away from the wooden tabletop.
Fischbeck is based in Laguna Beach, CA, and this arrangement is a great example of how you could recreate that beach feeling no matter where you live.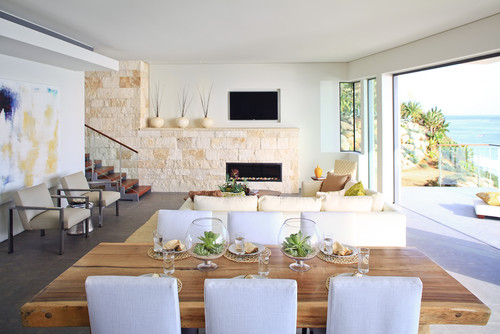 I also like these custom-made Rustic Succulent Centerpieces from The Mitered Joint on Etsy. They start at $60 and when I checked they've already gotten over 350 5-star ratings.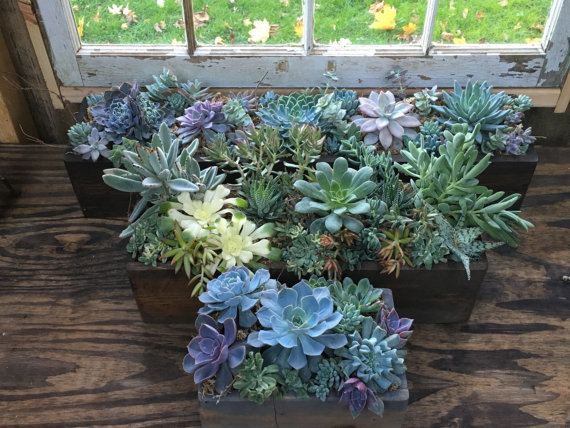 3. Put two or three dozen tulips in a single vase
This arrangement of coral-colored tulips by Atlanta designer and architect Joel Kelly is lovely. Filling a vase like this with a single type of flower gives me the sense that I'm looking at a field of them — so romantic, yet simple.
In this home it goes beautifully with the contemporary furnishings. And the blossoms seem to echo the forms in the bubbled-shaped pendant lamp.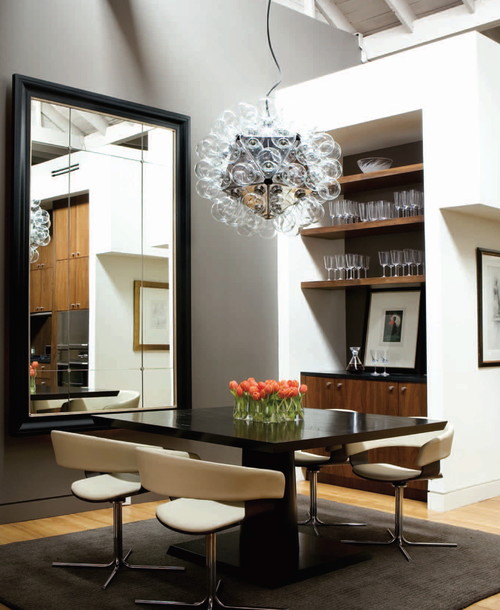 4. Mix fresh leaves with organic sculptures
This arrangement by Gary+Gayle makes me think immediately of autumn, with the fresh-cut branches, the candles, and the faux pumpkins. I'm a big fan of mercury glass (the speckled silvery glass), and using two pumpkins made of it here balances nicely with the muted tones of the woven pumpkin.
Bottom line: Don't be afraid of mixing and matching. A combo of styles and materials is exactly what will make the decoration uniquely yours.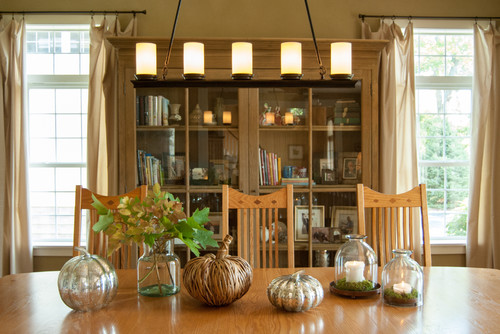 Another idea is to mix in rustic candle holders, like these birch bark candle holders from Steven and Rae. They're handmade order, starting at $16.95.
5. Mix candles and hydrangeas
There's something utterly decadent about having large vases of hydrangea blossoms in dining room table centerpieces. When you place them alongside candlesticks in particular, the flickering light and the tall, narrow shapes contrast so well.
In this case, I like how Chango & Co. alternated candlesticks with votives of different heights. It's pretty and whimsical, especially with the purple and creamy white theme.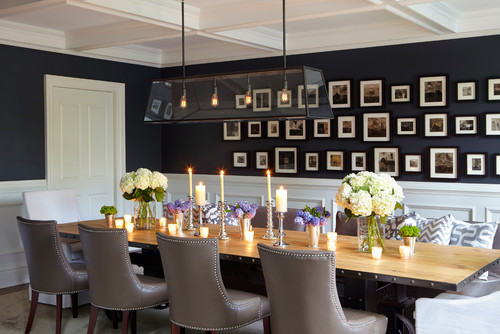 6. Use a single, large round vase of tied flowers
I absolutely love how this large, round vase looks placed beneath the pendant light; it's as if the two were made to go together. Because DKOR Interiors placed just one thing on the table, it draws your eye to the center — and the vibrant green flower stems.
Really you could do all kinds of flowers in this type of arrangement. But I'd advise choosing flowers with fleshy stems and tying them in the middle (like they did here), to make them stand upright.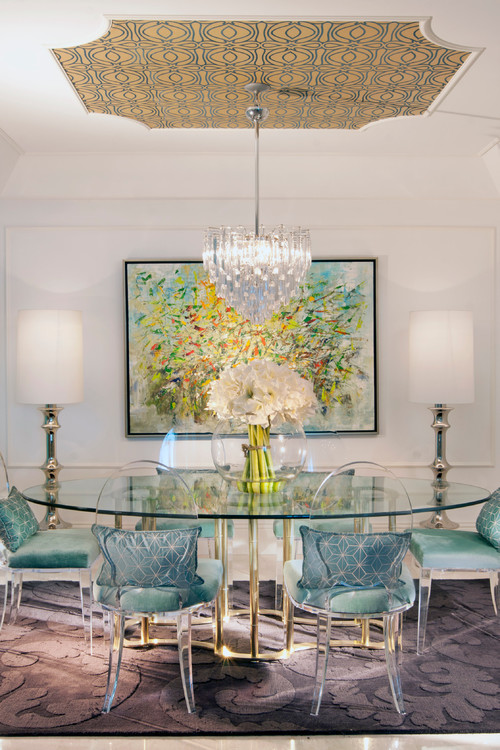 7. Create a line of large votives in hurricane vases
The woven candle holders in this design by Barefoot Design Group make me think of beach houses on an exotic island.
In this case the dining room is large and the table long, so having the oversized candles as centerpieces makes perfect sense. On a smaller table you can always switch to a smaller candle, so you don't overwhelm the center of the tabletop.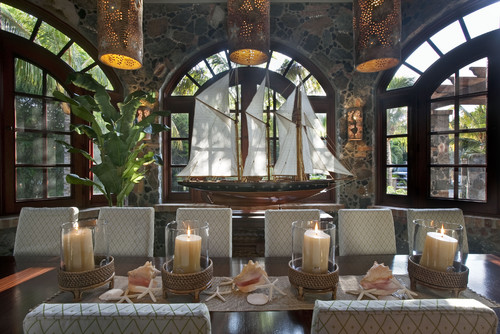 You can also make this a little more glam if you want. Here are some Silver Sequin Votive Holders I like from Make Specially. They cost $65 for a set of 12 (4 in. tall).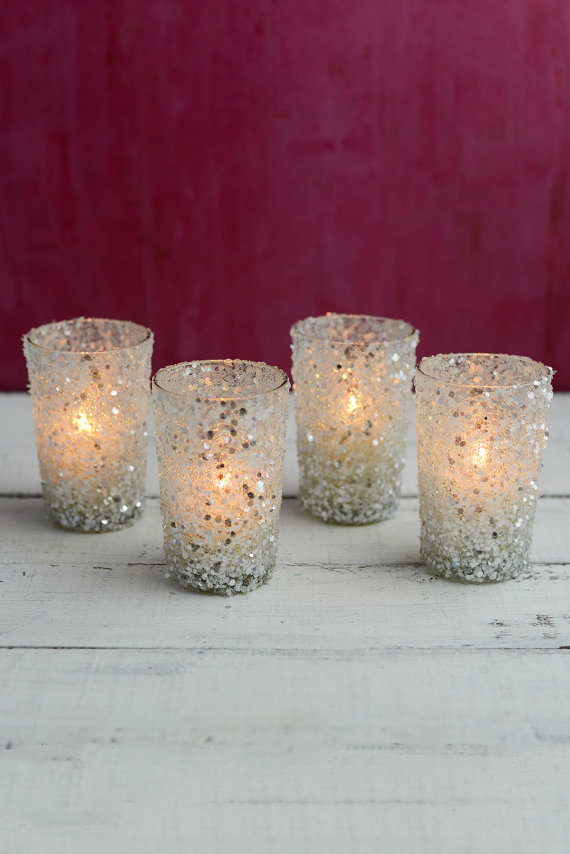 8. Mix white, mercury glass, and clear glass
I said I'm a fan of mercury glass and I meant it! In this case Leo Designs has opted for a small, single mercury glass vase that makes the white tulips inside of it stand out.
Flanked by the tall glass cylinder vases and large votives, it gives just enough shine to contrast with the rustic wooden table.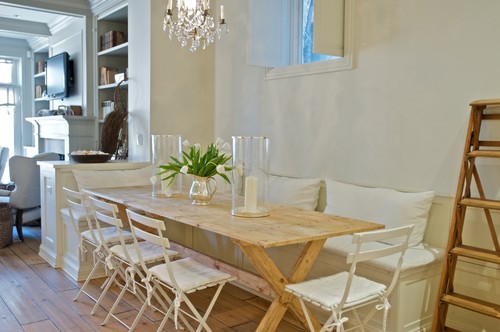 9. Place twin candles around a plate of apples as a centerpiece
This room by Tim Barber Architecture has a highly sculptural look, between the red leather dining chairs and the twin pendant light shades. And while the large hurricane vases add another rounded shape, it's the tray of bright green apples that gives a soft, natural touch. It would look beautiful with red apples, too!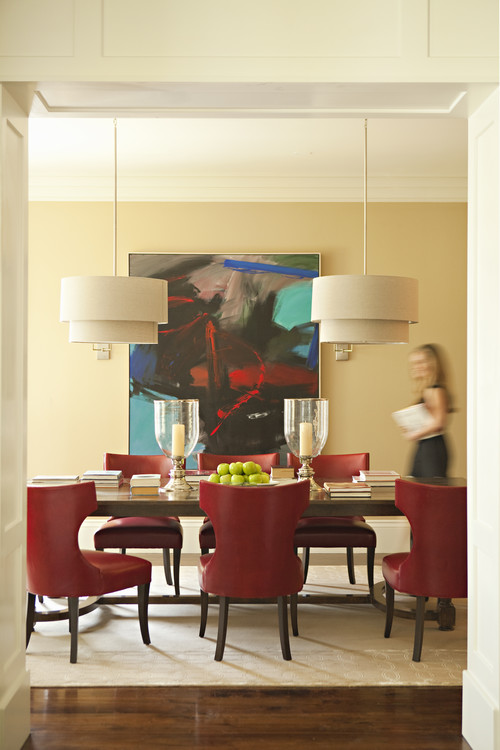 10. Line up identical vases of brightly colored, long stem flowers
I like this design by Elizabeth Metcalfe Interiors & Design a lot. The intense yellow of the flowers stands out so well against the dark wood tabletop and the white room.
What's great about mostly neutral rooms is that even the smallest amount of color pops; in this case you could do any color and it would shine.
I also like the use of very small tealights in glass holders here — and how they each cast a small puddle of golden light in front of every place setting.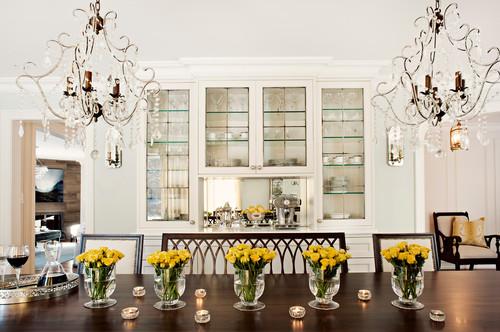 ---
What are your favorite dining room table centerpieces for everyday living? I'd love to hear your ideas.