Social media for interior designers is so important. Yet one of the biggest complaints I've heard from designers is they don't know how to market their business on it. So is it really worth the time and effort, considering that your true focus is working on projects for paying clients? As a former shelter magazine editor in chief, and nationally published interior design writer, I can tell you the answer is YES! (For more about my background, click here.)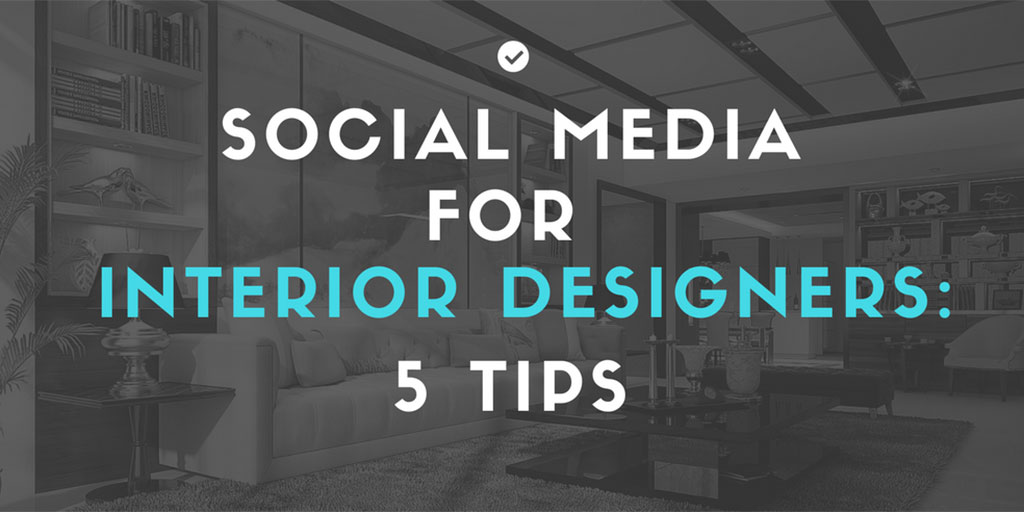 Social media is definitely one of the most important ways you can market your interior design business online, without even leaving your desk. These days most people turn to social media first for ideas, because they tend to trust the people offering them. And trust, as we all know, is one of the essential ingredients to getting people to hire you over someone else.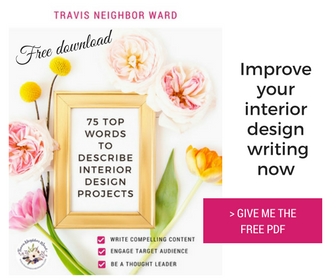 Social media is also great if you're a designer with a product collection that you have created. Research shows that about half of all your potential customers will check out a product on social media before they purchase it. That's a lot of people!
But, not all social media is equally efficient for interior designers. It takes time to set up, build, and promote your social media accounts, so you want to choose wisely. Generally the platforms that are photo-heavy are where you'll find more design addicts. That means platforms like Pinterest, Houzz, Facebook, and Instagram.
Here are five tips on using social media for interior designers:
1. Solve people's problems
Overall, people will be more interested in your posts if you're helping them solve a problem. For instance, you might tell them how to create a gallery wall or how to choose a happy paint color. These are often the posts that get shared the most on social media because people love sharing great advice with their friends.
Basically you're doing them a double favor: You're giving them tips they can use, and you're giving them a free gift they can offer to someone else.
I've seen some interior designers limit their posts to self-promotion (i.e., here's another great room I designed). That's great and you should do that, but limiting yourself to it is really old school. You need to think about social media as a way to show people what you're good at and why—but the best way to snag their interest is to tell them how they can learn from your successes and mistakes.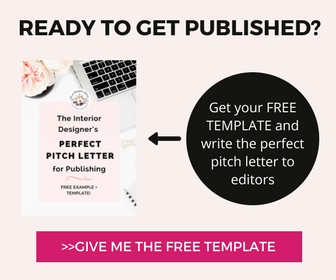 2. Take photos all the time
I highly recommend investing in a smart phone with a high-quality camera. Personally I prefer Apple iPhones. This is better than carrying a separate digital camera with you because it's easy to forget a camera at home; the phone will always be with you, so you'll be more inclined to shoot tons of photos wherever you are.
That means taking selfies and photos of your design work, inspirations, and locales you like. People can't get enough of this stuff! Even if no one knows who you are yet, treat yourself like a design star in your mind. Show people where you went on vacation and the meal you ate at a restaurant. Show your pets! Mix it up and they won't get bored. Just remember that these people are coming to your page because they love design. So, tie it all into that and you can't go wrong.
Again, as with videos you don't need these photos to look professionally shot. It's okay if the scene isn't "perfect," or if you don't look like a professional stylist chose your wardrobe and did your makeup. Be natural and spontaneous, and they'll love you more.
Remember: People are coming to your pages for the CONTENT and IDEAS, not to see you looking perfect.
>> Ask me a question about interior design marketing in the comments section below and I'll answer it with a new post!
3. Sponsor giveaways and contests
Some savvy interior designers are using social media to announce giveaways they're hosting. Great idea! This giveaway might be for something you produced (like a design book you wrote) or something design-related (like a product).
You can pay even small amounts of money to advertise these giveaways on Instagram, Facebook, and Pinterest. For just $20 you can reach literally thousands of targeted potential clients.
Once you have a large enough following on your social media accounts, you may not need to advertise at all. The great thing about giveaways is that you can ask for people's email addresses when they enter the contest—a fantastic way to capture these "qualified leads" and then email them later about your work.
4. Coordinate content on all your social media accounts
I've noticed that some interior designers create separate content for Facebook, Instagram, Houzz, and Pinterest. But that's unnecessary and can be a waste of time. Instead, you need to come up with a comprehensive editorial plan that incorporates all of the accounts and has them working in tandem.
Each platform attracts a slightly different audience, and you need to target them differently based on their needs and outlook.
So don't produce entirely different content for each platform. Come up with a great idea for a single post, then figure out how to tailor that post four different ways.
5. Shoot and share videos a lot
After Google, YouTube is the most popular search engine! People can't get enough of videos. It takes less work to watch a video than it does to read an article. Plus, people often feel a closer tie to the person in the video than they do to the author of an article. Your big goal with social media is to promote yourself as a helpful authority. And seeing (literally) is believing when it comes to videos.
Note: Your videos don't have to be perfect!
As an interior designer, you're probably used to striving towards perfection in your work. But in the case of videos, don't let your super-high standard be what stands in your way. It's easy to put off making videos because you think they won't be "good enough." But, this is just an excuse to procrastinate. Nowadays people are used to seeing videos of all quality levels, and they're very accepting of amateur productions.
In fact, people often trust amateur videos because they seem more authentic than a "perfect," professionally produced video. Have you seen some of the videos out there that go viral? They're often produced by people who have no professional training but are passionate about a topic and have done their research on it.
In general, remember that it's okay for you to mess up while you're speaking on video. Don't be afraid to poke fun at your on-screen mistakes! People will find you charming and they will come back for more.
---
What's your favorite social media for interior designers and why?