A gallery wall is one of the hardest things to DIY when it comes to home decorating. Should you include photos and artwork? Should you match sizes and frames, or get more creative and mix things up? If you do want to branch out from a simple row or grid pattern, how do you do it without it looking messy? And should all of this be placed against a happy paint color or is it better to keep the paint neutral?
To get the answers, I turned to interior designers who have created beautiful gallery walls that are both highly creative and well organized.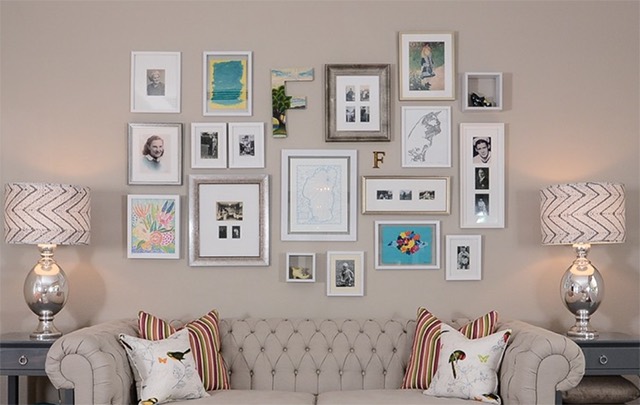 Here are 7 great gallery wall ideas (plus layout templates at the end):
1. Decorate Above Your Bed
The art on this bedroom wall by Laura Weatherbee of L. Weatherbee Design Studio is beautifully anchored by the pale blue paint color behind it. (It's  7532 Glorianna from Cloverdale Paints.) I like the way she alternated photos that were shot long-range with ones shot close up. By placing this gallery above the headboard, it draws more attention to it.
Other juicy details: The Tufted Wingback Linen Headboard is from Wayfair. To find out how Weatherbee created a custom DIY ombre finish on the lampshades, read her article here.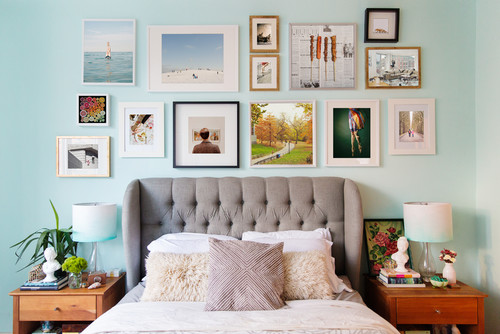 2. Combine Objects with Art
On this sofa wall by Heather Freeman Design Co., the designer added 3D objects for heightened visual effect–including arrows and a slice of wood with a saying painted on it. (This is a great idea for a DIY project! You can buy wood like this at crafts stores.)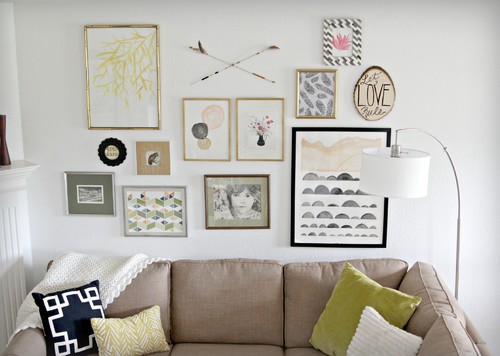 >>Affiliate notice: I research every product I recommend, and I only give high marks to the very best. Some of the links here may be affiliate links, which means I may receive compensation from companies if you purchase from them. This is at no cost to you and it helps me keep this website running. So thanks for helping me! I independently own this site and the opinions expressed here are my own.<<
3. Fill Your Dining Room Wall
Why just put up a few pictures for your family and friends to look at while they dine? Adi Tatarko, the designer of this dining room wall, used what would have been a large, blank wall to create a wide variety of interesting things that the eye can wander over. She offers this tip:
Frames on a wall don't have to match. Black, silver, wood and painted frames of various sizes can all be beautifully added to the same wall.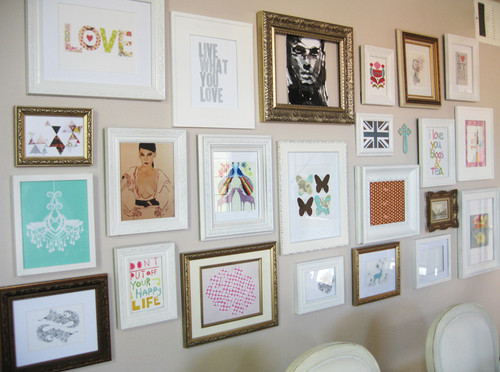 4. Incorporate Nature
London design team Turner Pocock crafted this gallery wall out of preserved butterflies, hung in different sized frames and in an interesting pattern. As they say:
Gallery walls can be added to any nook in the house . . . [they] don't need to be clustered.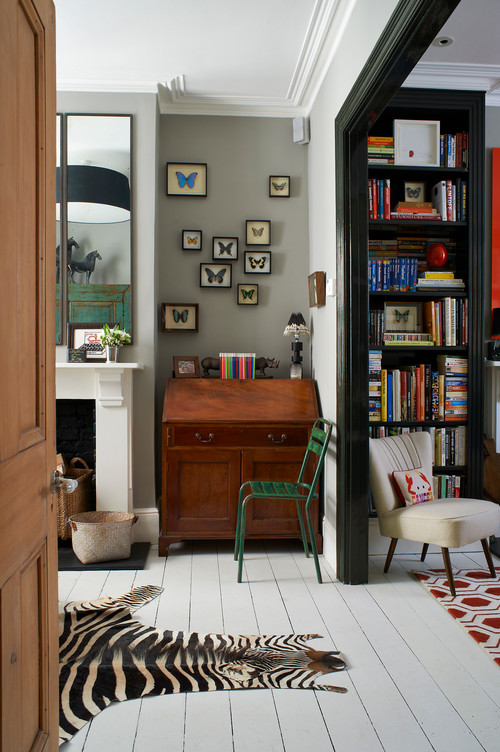 5. Anchor the Sofa
Here, too, the neutral wall color anchors the artwork. In this case California designer Kerrie L. Kelly of Kerrie Kelly Design Lab mixed artwork with the letter F to create interest above the tufted Chesterfield sofa.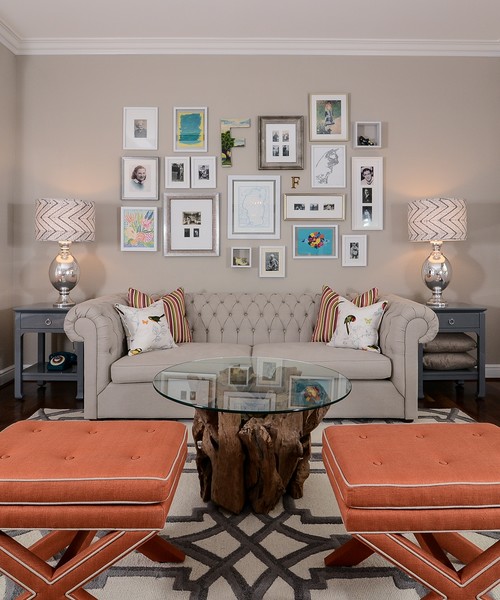 6. Wrap Your Gallery Wall Around Corners
St. Louis designer/blogger Elizabeth of Little Black Door Designs used two walls of this hallway to create a gallery. As she says on her blog:
We use every inch of our house and we use it well.
That's clear from this area alone! Read her article to find out exactly how she did it, including taping pieces of newsprint up in advance to see how it would look.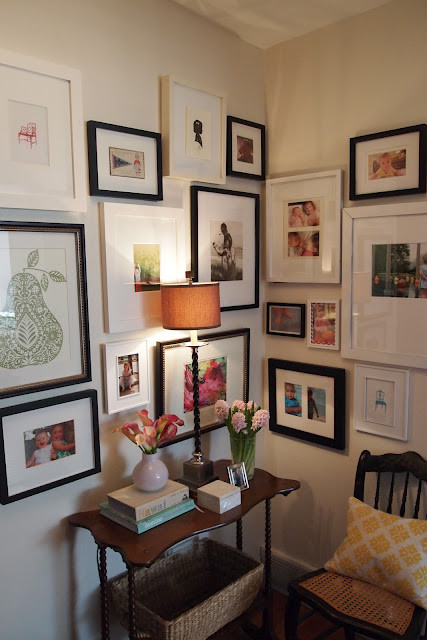 7. Mix Different Kinds of Artwork
This wall is actually in the Laurel Canyon Music Studio, but you could do the same thing at home. Los Angeles design firm Lindsay Pennington Inc. combined posters, photos, and hand-drawn art to make a highly creative-looking area.
Other juicy details: The coffee table is from CB2. The pillows are from the LA store Hollywood at Home, and the fabrics (except the center, which is vintage) are by ZAK+FOX.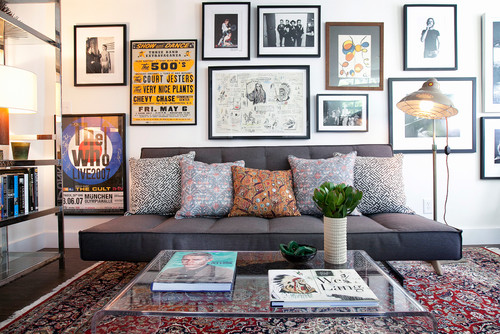 Here are some layout templates. Please share this infographic if you like it!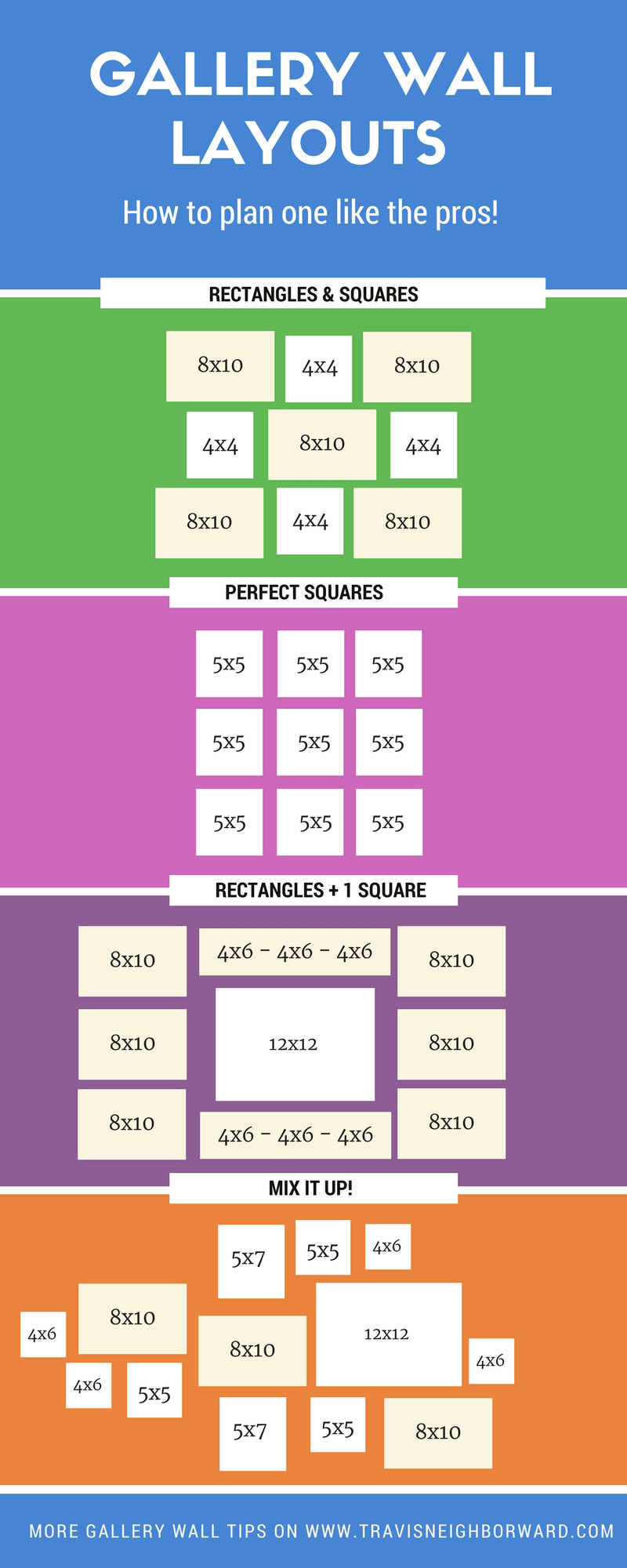 Have gallery wall questions? Leave a comment and I'll find the answer!