Former Southern Living cookbooks editor and author Sarah Gleim reveals the best cookbooks that always stay on her top shelf.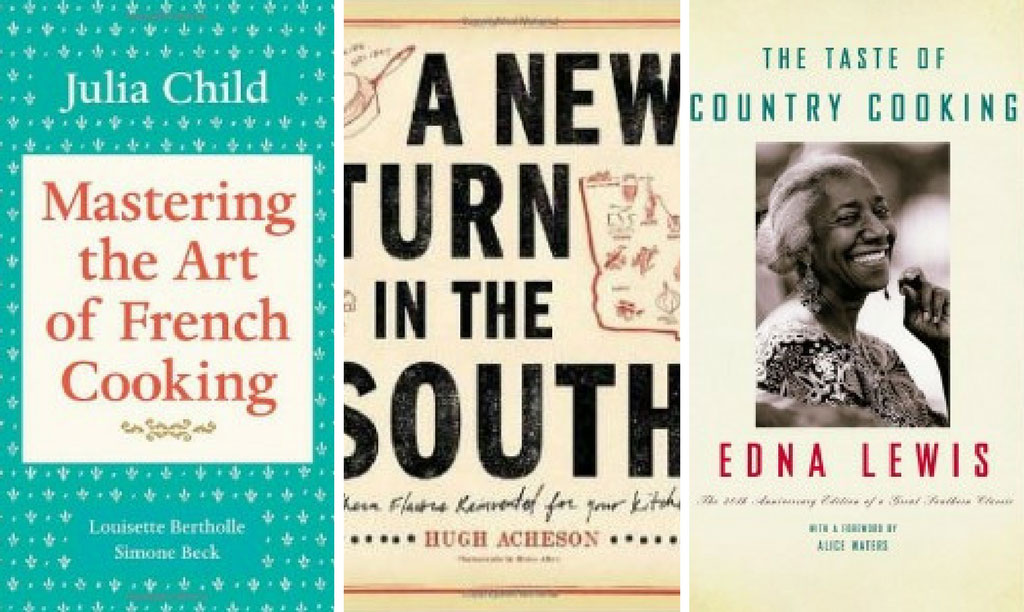 Sarah Gleim: I love cookbooks. So much so, I uprooted my life in Atlanta to accept a position as an editor with Oxmoor House/Time Inc. in Birmingham, Alabama, to produce cookbooks for Southern Living.
Cookbooks are an interesting beast. There are so many published annually, it's hard to know which are the must-haves, and which are the ones you can just leave on the shelves. While I'll always want the classic, tried-and-true cookbooks for the recipes, I most enjoy collecting books written by some of the world's best chefs and cooks. These cookbooks are often driven by the stunning photography and food-focused memoirs, even while the recipes are sometimes too difficult to produce at home. But, they're still among my favorites because the chefs' stories and passions for food are so inspiring.
I also have a growing collection of community cookbooks—you know, those old cookbooks compiled back in the day by women's organizations, church ladies and community groups. I inherited most of them from my grandmother, and my favorite is
Charleston Receipts, printed in 1950 by the Junior League of Charleston. It's filled with my grandmother's handwritten recipes, and flipping through it is like getting a little glimpse back in time.
With that said, it's impossible for me name the best cookbooks of all time.
But these 10 best cookbooks definitely fall among my favorites:
---
1) Mastering the Art of French Cooking by Julia Child
There are a lot of reasons we all know the name Julia Child, and one of them is this classic cookbook. In it Child's recipes make French staples like her famous boeuf bourguignon easy to follow and understand, and it's often said to be one of best cookbooks of all time.
2) The Taste of Country Cooking by  Edna Lewis
Just as Julia Child taught us about French cuisine, Edna Lewis taught us to respect the foods and ingredients of the South. Her book focuses on seasonal menus (because that's just the way she knew how to cook), as well as how community and hard work influenced her life in the South. The recipes include Southern favorites like biscuits and gravy, Virginia ham, a variety of preserves and pies, and all the fresh vegetables you can imagine.
3) A New Turn in the South by Hugh Acheson
One chef who probably took a tip or two from Edna Lewis is Atlanta's Hugh Acheson, and I simply couldn't leave his James Beard Award-winning cookbook off my list. It's graphically appealing (Acheson himself contributes drawings) and the recipes focus on fresh, Southern ingredients, especially veggies, for which he's become famous at his restaurants Empire State South in Atlanta, and Five and Ten in Athens.

4) Heritage by Sean Brock
Okay. I know I'm jumping the gun on this cookbook because it doesn't even hit shelves until October 21. But Charleston chef Sean Brock (he's chef/owner of Husk and McCrady's) is one of my favorites and I've been waiting for years for this book–ever since he hinted to me that he was writing it when I interviewed him in 2012. Knowing his passion for Southern food heritage, seed saving, and his culinary profession, I expect this cookbook to be one of the best of 2014.
5) The Southern Pie Book by Jan Moon
Speaking of one of the year's best, Jan Moon's cookbook was already honored as a finalist for the prestigious Luce Awards presented annually by Time Inc. This book's photography is stunning—the pies look so good it's hard to put the book down. But trust me, I'll have to wait until the holidays to pull this one back out because if I make as many of the pies as I want to, I'll have to buy a new wardrobe!
6) I Love New York by Daniel Humm and Will Guidara
I travel to New York several times a year, and my taste buds had me more eager than ever when this massive book came out a few years ago from chef Daniel Humm and restaurateur Mike Guidara of Eleven Madison Park. At 500 pages, it reads like a reference guide to the best ingredients, farmers and producers–and unlike their first book, Eleven Madison Park: The Cookbook, which is probably better served as a coffee table book, this is full of recipes you actually can produce at home.

7) On Cooking: A Textbook of Culinary Fundamentals by Sarah R. Labensky, Priscilla A. Martel and Alan M. Hause
This massive book probably isn't for everybody, but it's by far my most used in the kitchen. It's really more of a culinary reference book than a cookbook, and covers all of the basic aspects of cooking essentials, from knife skills and nutrition, to food safety and sanitation. There are tons of tested recipes as well, that cover stocks and sauces, eggs and breakfast, baking and pastry, garde manger, and even plate presentation.
8) Culinary Artistry by Andrew Dornenburg and Karen Page
If you really want to take your cooking to a whole new level, you have to add this cookbook to your collection. Rather than a standard assortment of recipes, this book teaches you how to compose flavors, dishes and even menus, and a huge part of the book explains why certain flavors pair well with others. Forward-thinking chefs like Rick Bayless, Daniel Boulud, and Alice Waters tell what inspires them, and how they translate that vision onto the plate.
9) The Flavor Bible: The Essential Guide to Culinary Creativity, Based on the Wisdom of America's Most Imaginative Chefs by Andrew Dornenburg and Karen Page
Similar to their book Culinary Artistry, the goal of James Beard Award-winning book The Flavor Bible is to teach readers how to go beyond just following recipes and instead how to create flavor profiles of their own. It also features a massive reference section on ingredients and how to best pair them, as well as tips and recipes from some of the country's best chefs.

10) How to Cook Everything by Mark Bittman
I know what you're thinking. How to cook everything? Yeah, right. Well, Mark Bittman's classic James Beard Award-winning cookbook has been a staple in many kitchens since it was first released in 1998, and could be considered the Joy of Cooking for my generation. The book and recipes are so reliable and popular, it spun off multiple follow-up books, such as How to Cook Everything Everything Fast and How to Cook Everything Vegetarian. So, if you're looking for a starter book, this is a good one.
For more information about Sarah, visit her website. 
---
What do you think are the best cookbooks? Please leave a comment below.