It's March and the nights are still cold here in Atlanta, but the days are warming up to the low 70s. We built a new deck (by ourselves, so proud) and the daffodils are blooming. So of course I'm dreaming about having a summer yard party! Hence my research into how to make the best homemade lemonade and margarita recipes.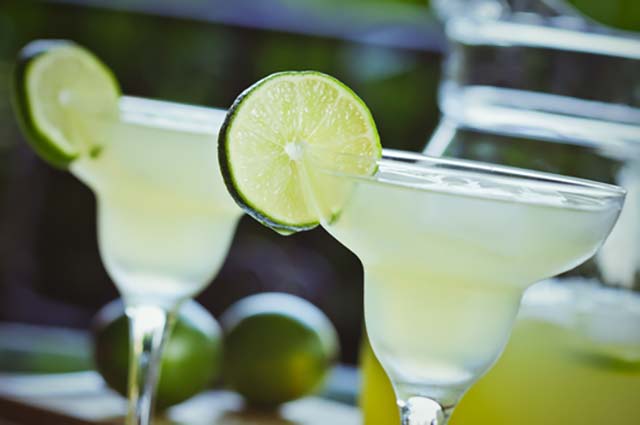 Of all the cocktails you can shake, margaritas are definitely among the most glamorous. A combination of sweet and sour, they instantly call to mind images of evenings by the pool. (They also remind me of when I got a job at Crate & Barrel in high school, and I had to stack margarita glasses so tall I was sure they'd topple; they didn't.)
The five margarita recipes here are very different. If you're a traditionalist, you'll love these first two for their simplicity. The final three are definitely more modern.
Simply sweet
This margarita recipe from The Food Network had 46 5-star reviews when I last checked. Aside from the usual ingredients, it includes a dash of Simple Syrup to sweeten it up. Good ways to change it: Use Cointreau or Grand Marnier for the orange liqueur; add jalapenos.
Ice, ice, baby
This frozen margarita recipe from Saveur magazine makes us long for dinner outdoors on the patio! The editors recommend using Herradura Silver Tequila and frozen limeade. A good way to change it: Sub out the Tequila for less expensive Triple Sec.
Smoky sensation
The editors of Epicurious.com say Eben Freeman, a bartender at Tailor Restaurant in New York City, developed this version of the margarita. It incorporates Reposado tequila, which is aged in oak and adds a smoky flavor. When I last looked it had 3.4 out of 4 "forks" based on 18 reviews. Good ways to change it: Add a tablespoon of Grand Marnier "to make it a Cadillac," as one reviewer says, or substitute the sugar with agave syrup
Bring out the beer
This beer margarita recipe from Food.com has garnered 42 5-star reviews so far.  It includes limeade, Tequila and yes, beer. Good ways to change it: Substitute the limeade with 7-Up, suggests one reviewer; or switch out half of that 7-Up with water to make it less sweet.
It's all about the grapefruit
Ina Garten posted this recipe on Food Network, and since then it's gotten a 5-star status from 27 reviewers. The special ingredient is ruby red grapefruit juice. Good ways to change it: Add half of a fresh-squeezed grapefruit, and consider adding sea salt.
---
What are your favorite margarita recipes? Please leave a link to it in the comments below.