Newgrange and Knowth are two of the main archeology sites in Bru na Boinne, or the Boyne Valley, in Ireland. This valley is located 25 miles (or 40 km) from the airport in Dublin, and is full of Stone Age artifacts and architecture.
In particular, there are incredible passage tombs, which I've described below.
For a full guide to visiting these sites and the tombs, read this guide I wrote about Bru na Boinne, including a video I made of the Boyne River at the Visitor Center.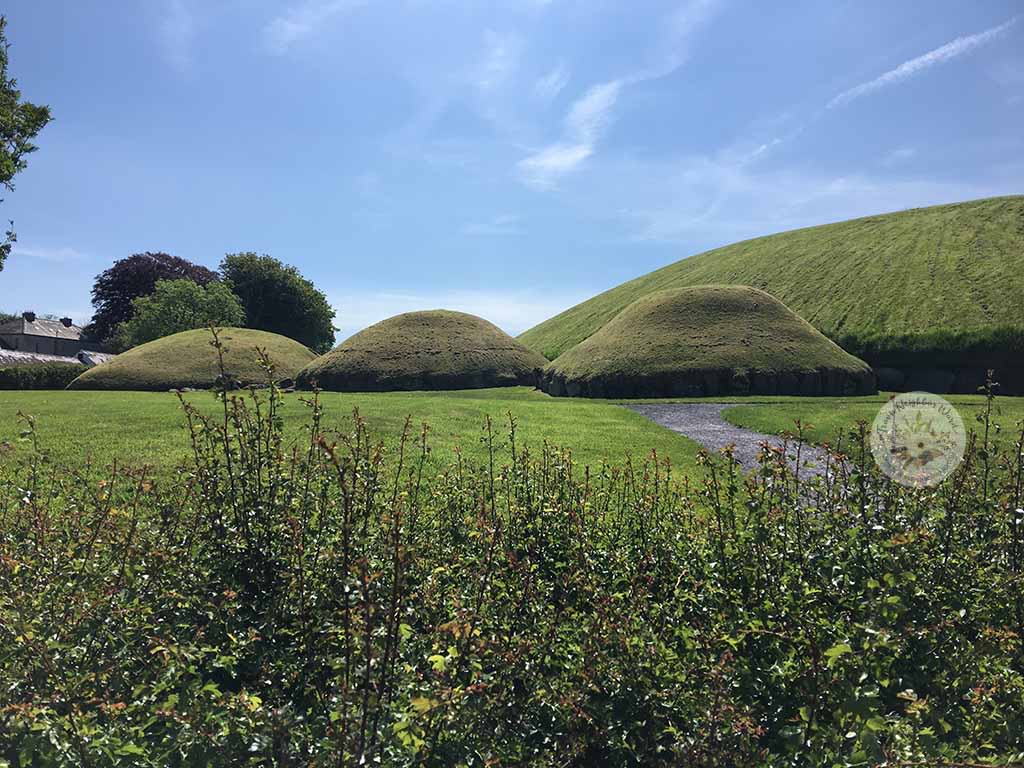 What makes these tombs so interesting is that they're handmade, hill-like structures with long, dark tunnels (passages) below them. They're empty now, and you can only go inside a few small areas.
Here are my husband, Brian, and daughter Aislin climbing into a passage. The guides kept encouraging people to try, but they were the only ones that went in this one. If you go, give it a shot!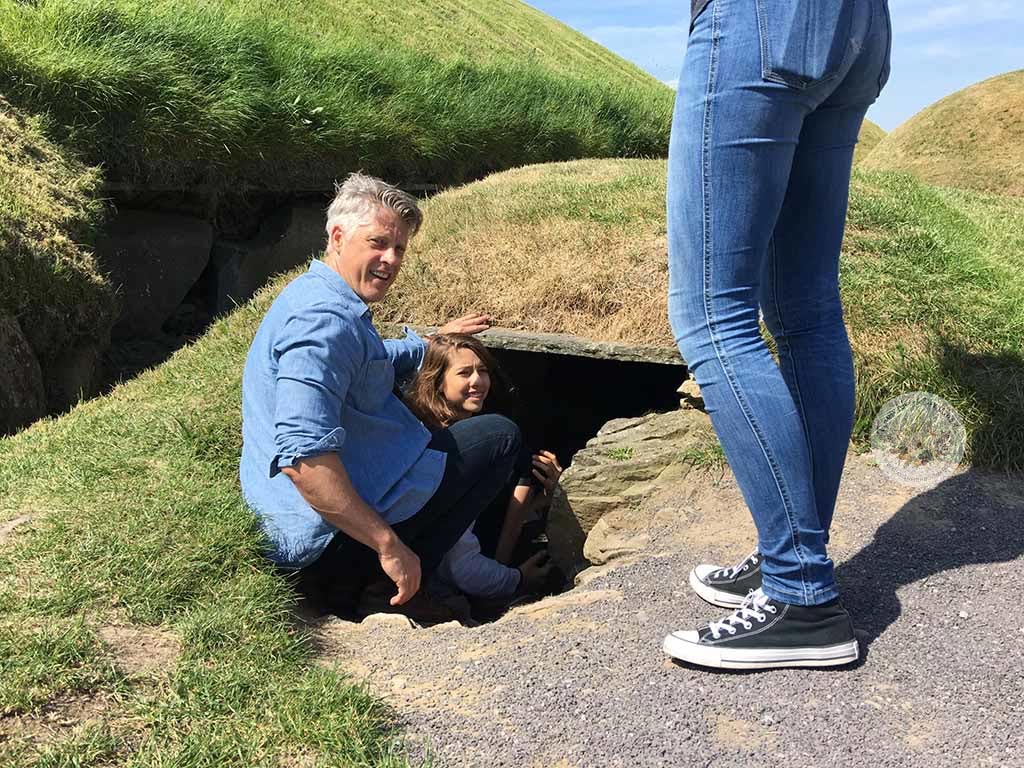 There's something so inspiring about these tombs, you can't help but feel the full glory of humanity as you stand here. They predate Stonehenge and even the Giza pyramids!
Newgrange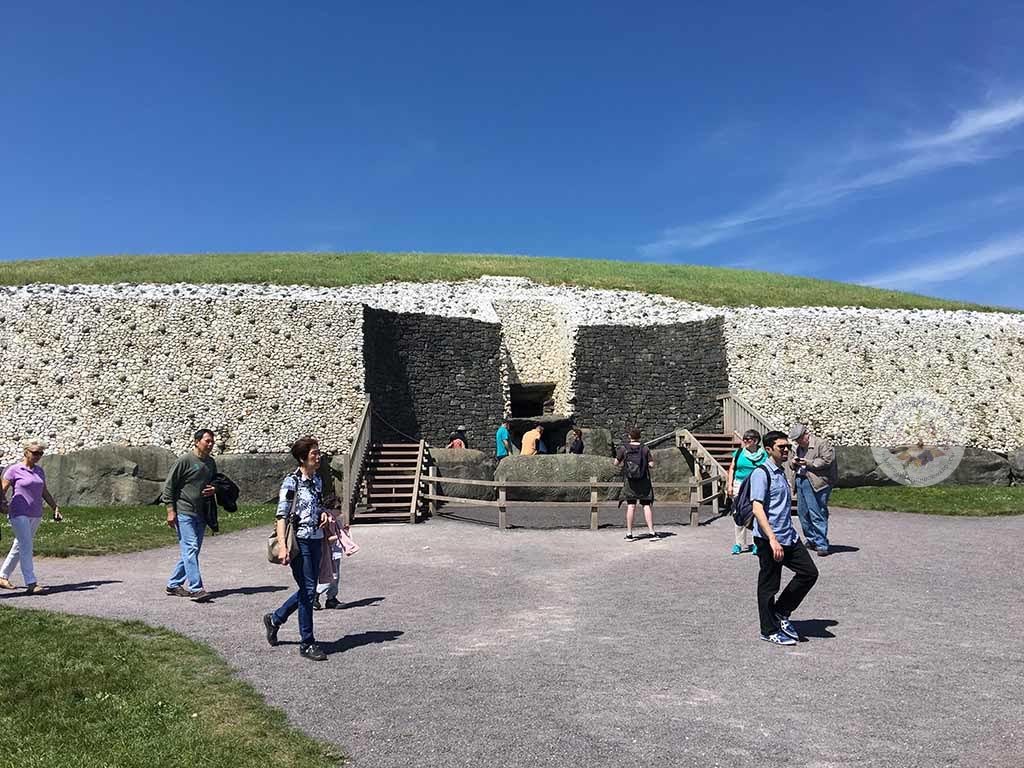 When you tour the Newgrange site, you're assigned a guide by the OPW (Office of Public Works). When my family went in June 2017, our guide at Newgrange was a man named Gerry.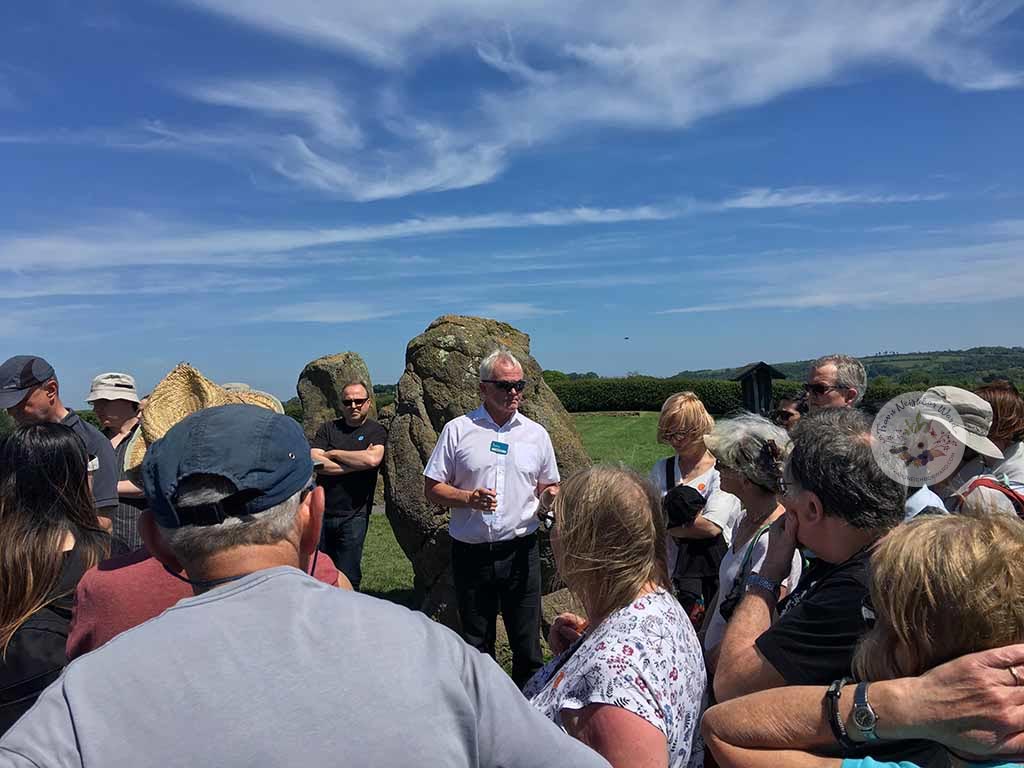 He was very good at describing the history in an exciting way, which was a huge plus since I was traveling with my teenage daughters.
The passage tomb at Newgrange is 93 yards (85 meters) in diameter and 15 yards (13.5 meters tall). That takes up about 1 acre total.
There's a passage inside of Newgrange that's about 21 yards (19 meters) long. When you go inside, it leads to a chamber where there are three alcoves.
This is quite different from the experience visiting Knowth, and I recommend doing both. My girls loved it so much, they ran down the hill skipping and laughing — and that was after just a few hours of sleep (or maybe because of it!).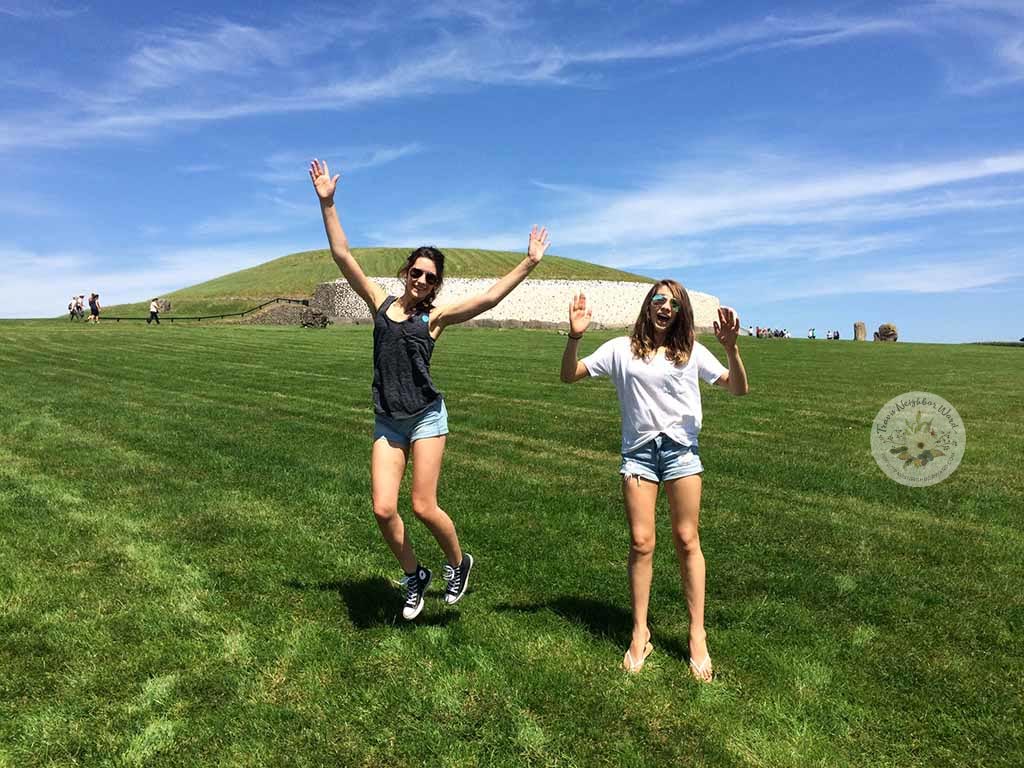 The Newgrange chamber is oriented perfectly so that twice a year — at the winter and summer solstice — the sun shines into a large hole in the wall, and onto the back of the tomb where the remains were buried.
To re-enact it, Gerry turned off the lights and shone a light there. My family loved it!
Surrounding the tomb there are 97 stones called kerbstones. The stones are engraved with megalithic art. I found this large stone was a great place to rest in the shade.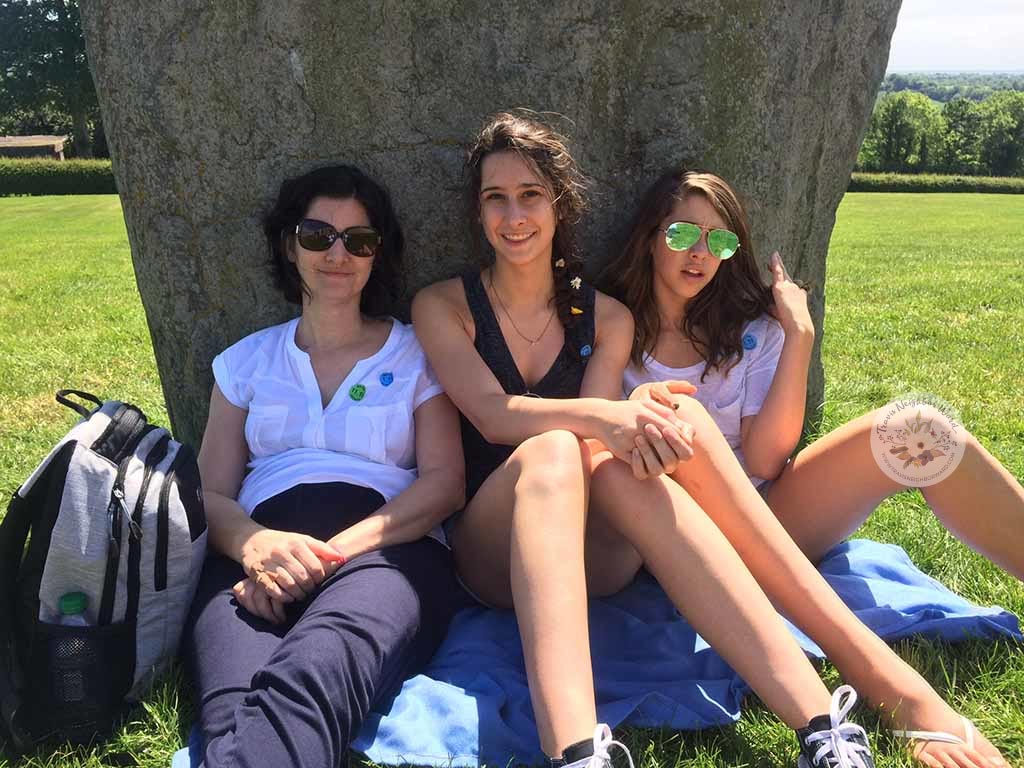 If you want to see the real sun entering the tomb on the winter solstice, you can enter a lottery each year. They choose a couple hundred winners in all.
To enter the lottery, go to this official website.
Knowth
Our OPW guide at Knowth, Collette, was also incredibly skilled at describing the history in an exciting way.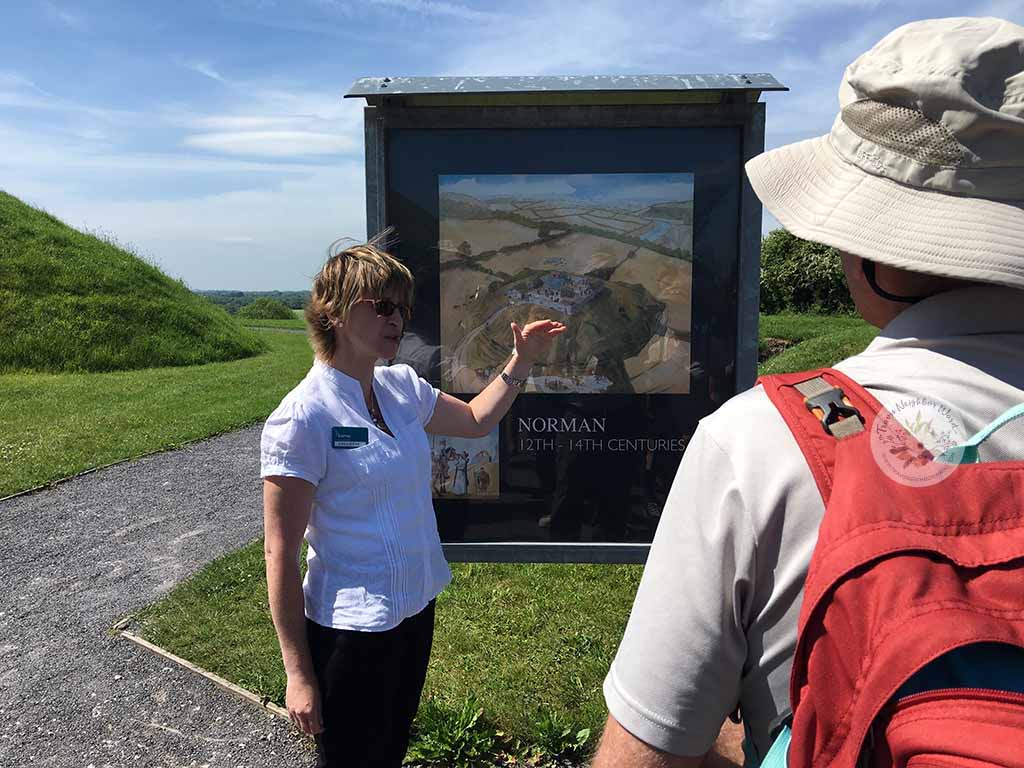 She explained how people used the passage tombs for different purposes over the centuries. When they were built 5,000 years ago, their purpose was to house burial remains and (archeologists think) to worship the sun.
You can enter a small chamber within one tomb: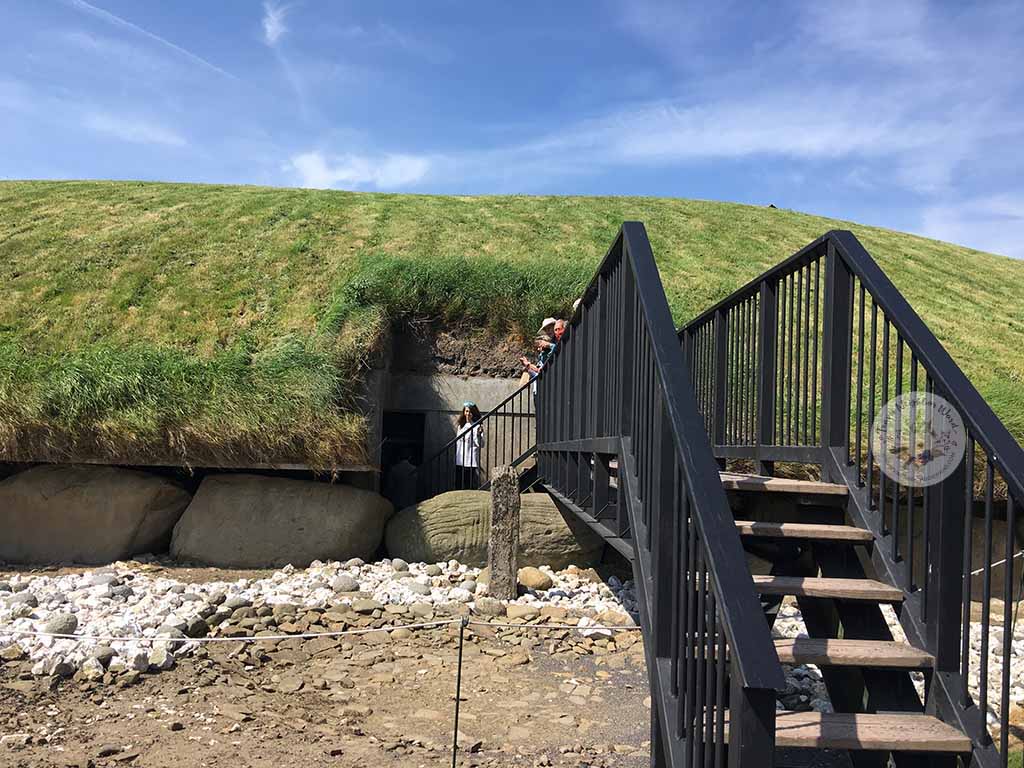 Over the centuries, these same tombs were occupied by many different groups. Some came and lived on top of the mounds, to gain the advantage of being able to see for long distances in all directions.
Around Knowth site 1 there are 18 smaller "satellite" mounds, some of which you can easily see in the fields.
Here's how they mow the grass on top of the tombs. That man is holding a very long rope attached to a lawnmower, which is rolling down the side.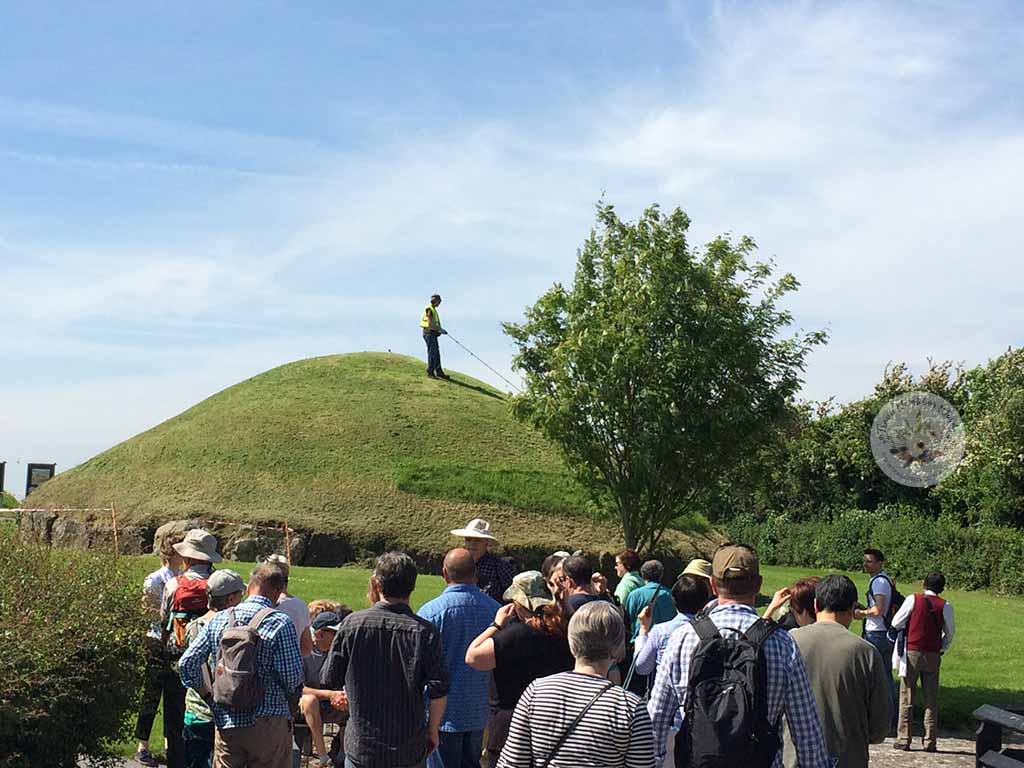 Around the Site 1 mound there are 127 "kerbstones," which are decorated with megalithic art. This includes spirals, concentric circles, crescent shapes, and other elements.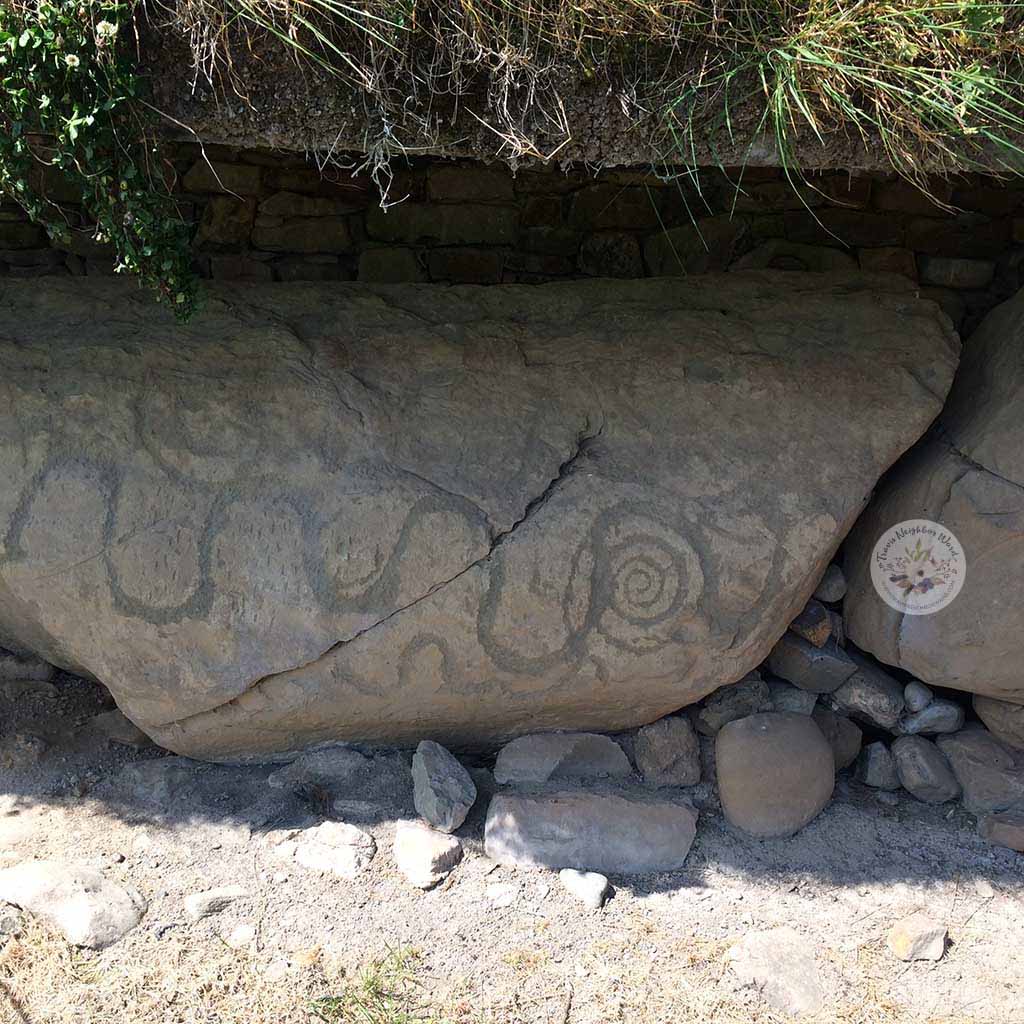 There were no wheels or horses in Ireland back then. The builders took these 4,000 lb. stones from up river and floated them to this place, then pushed them up from the river on pine logs.
Talk about motivated!
The rocks ring the foundation of each large mound. Then they built a high roof to go on top, and dug deep tunnels where they could hide if invaders came. These builders were also the first Irish farmers.
This is also at Knowth: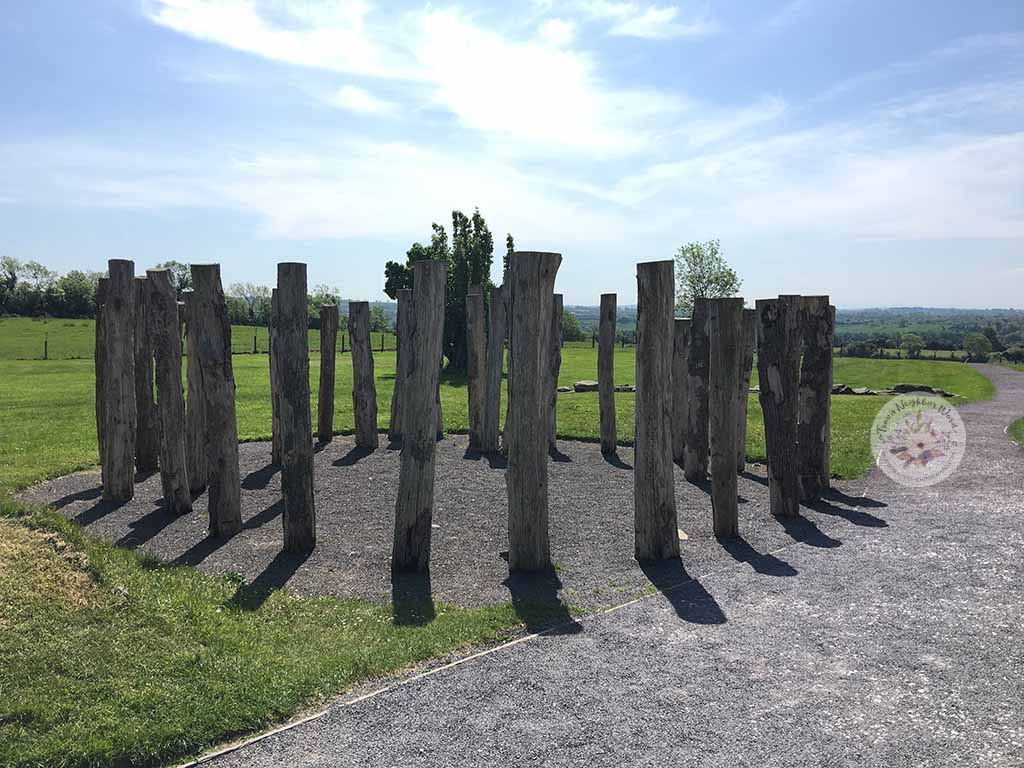 It's amazing to think these tombs stood abandoned for a long time, until a local archeologist excavated them in the 1960s and '70s.
My family loved visiting these sites. I think it's a great excursion for all ages.
Do you have questions or travel tips about sites in Ireland? Leave a comment!