Paris is known as a great city for strolling, but the blocks can be very long and wandering them can become tiring on the feet, especially for kids (I say this from experience!). For walks that you can be certain will satisfy your urge for quaint Parisian beauty — and that offer lots of places to rest and eat — read on for the prettiest streets in Paris…
>>Also, visit my Paris travel guide and see my list of the 25 movies set in Paris that are streaming on Netflix.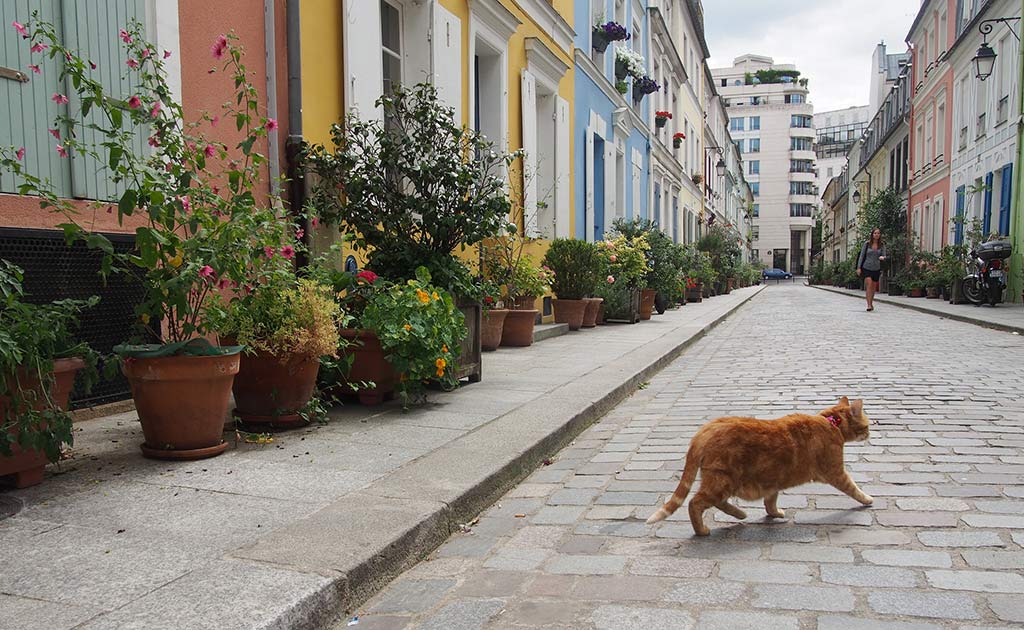 Rue Lepic
If you're on the hunt for Vincent Van Gogh in the Montmartre neighborhood (18th arrondissement), you'll end up here (his apartment is at #54 Rue Lepic). The Hotel 29 Lepic is on this street, and consistently gets a "very good" (4/5 stars) rating. 
It's also where you'll find Café des Deux Moulins, where Amelie worked in the movie by the same name. If you're in the mood for a hamburger, Le French Burger across the street is well-reputed and gets all of its ingredients from shops on the street.
---
>>Affiliate notice: I research every product I recommend, and I only give high marks to the very best. Some of the links here may be affiliate links, which means I may receive compensation from companies if you purchase from them. This is at no cost to you and it helps me keep this website running. So thanks for helping me! I independently own this site and the opinions expressed here are my own.<<
---
Rue Cremieux
This cobblestoned street in the Bastille neighborhood is lined with  townhouses in beautiful shades of bright yellow, pink, pale green, and more. It's not far from the Gare de Lyon, and has been nicknamed "The Notting Hill of Paris."
Rue Saint-Antoine
It's one of the prettiest streets in Paris, but it's also one that foodies will adore. It's not far from the Place des Vosges park and St. Gervais. Shops to look for: Laurant Dubois (for cheese); Caves Saint-Antoine (for wine); and Miss Manon (for baked goods).
Rue Montorgueil
Located in central Paris, this street includes the oldest pastry shop in the city from 1730 (Stohrer) and a great cheese shop (La Fermette). It has an open marketplace atmosphere that makes strolling it delightful. For a great food itinerary here, look at David Lebovitz' article.
Rue des Rosiers
When you're in the Marais neighborhood, head to this cobblestoned street in the Jewish quarter, where you'll find falafel shops (L'As du Falafel comes highly recommended), Kosher bakeries, and delis, as well as boutiques and pretty courtyard buildings in Earthy shades of orange and bursting with potted plants.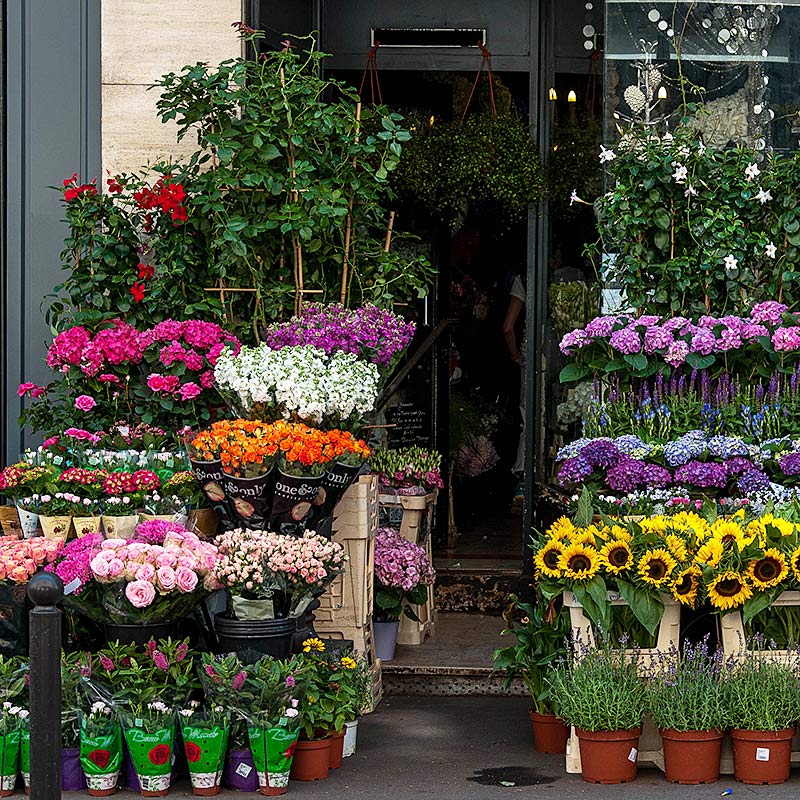 Rue Mouffetard
Located in the Latin Quarter, this narrow, winding street is full of bars, cafes, and inexpensive restaurants that students love. There is a beautiful market, which Hemingway described in A Moveable Feast . At the end you'll get to the Seine river, not far from Notre Dame.
Cour du Commerce Saint-André
Not too far from Sainte Chapelle, this street includes the city's first coffee house, Le Procope, as well as the famous Odeon bar. For a great cup of hot cocoa, try La Jacobine and Un Dimanche à Paris. This street is also a good place to buy things like leather journals and jewelry. The well-known perfumery Hayari Paris is here as well.
---
Which do you think are the prettiest streets in Paris? Leave a comment below.