The Rock of Cashel — or Carraig Phádraig — is one of Ireland's top attractions. Located beside Cashel town, in County Tipperary on a walled plateau, it also goes by the names of Cashel of the Kings and St. Patrick's Rock. Just looking at the photo makes me want to start climbing!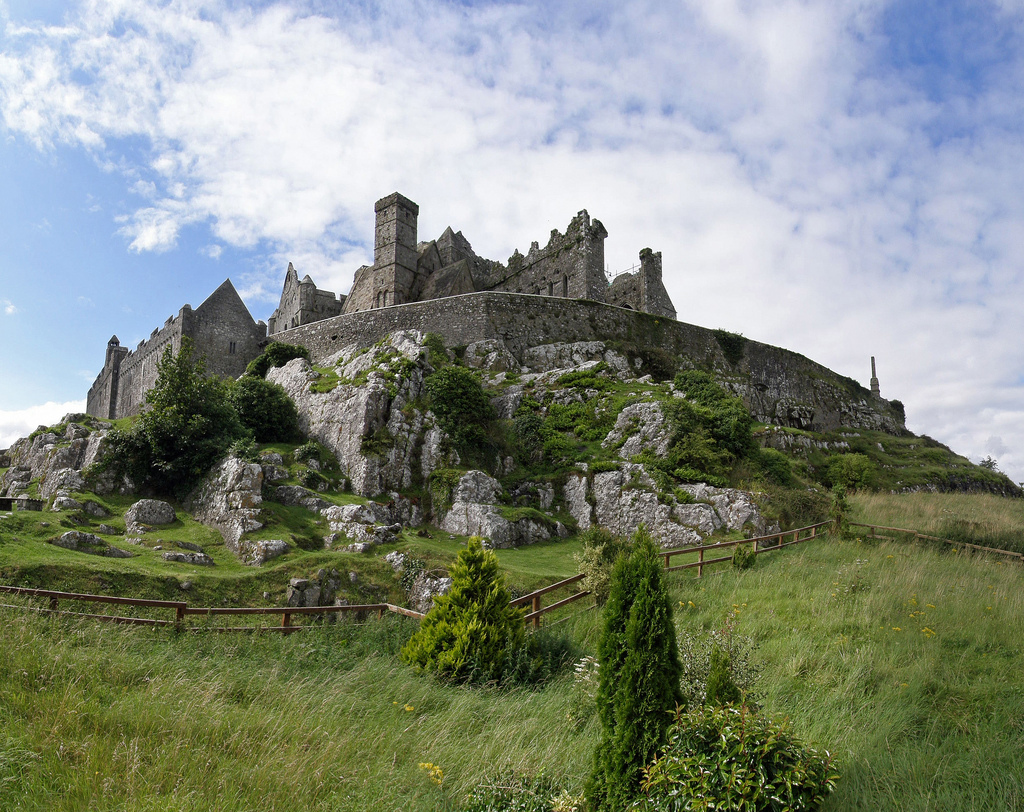 The Rock of Cashel is about 20 kilometers (almost 13 miles) from the town of Tipperary, so about 21 minutes by car. It's also about 62 kilometers (38.5 miles) from Kilkenny, or about 50 minutes away by car. It's 66 minutes by car from Adare (75 kilometers or 46 miles).
The distance from Dublin to Rock of Cashel is 166 kilometers (103 miles) and takes approximately 1 hour and 48 minutes if you take the fastest route.
>>Affiliate notice: I research every product I recommend, and I only give high marks to the very best. Some of the links here may be affiliate links, which means I may receive compensation from companies if you purchase from them. This is at no cost to you and it helps me keep this website running. So thanks for helping me! I independently own this site and the opinions expressed here are my own.<<
Here's the Rock of Cashel Map
The Rock is between the R505 and the R660 roads. It's off of Dublin Road, about 500 meters from the center of town.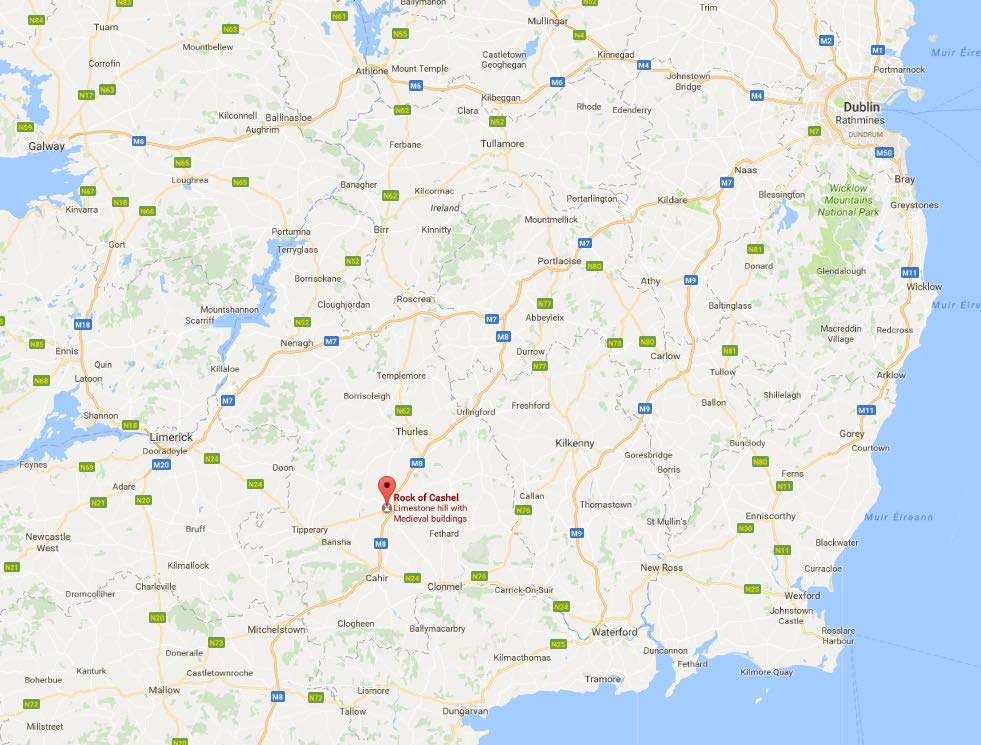 Rock of Cashel History at a Glance:
Legend has it that St. Patrick bravely banished Satan from a cave on a mountain about 20 miles away (called Devil's Bit). The consequence was that the Rock dislodged and landed in Cashel— a gift for the locals, who now enjoy the benefits of a steady influx of tourists year-round.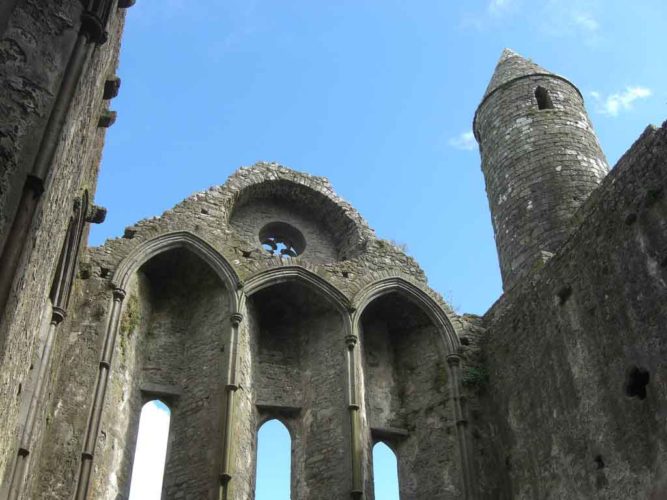 This is the place where people say that Aenghus the King of Munster was converted by St. Patrick in the 5th century AD. The rock was the seat of the High Kings of Munster for hundreds of years until the Normans invaded in the early-12th century.
In 1001, the King of Munster (Muirchertach Ua Briain) gave his fortress, which was built on the Rock, to the Church. 
Most of what you'll see now dates to the 12th and 13th centuries, and includes a chapel, round tower, graveyard, and cathedral. The architecture is one reason why people come to see the Rock of Cashel; another is its collection of Celtic art, which experts consider among the best in Europe.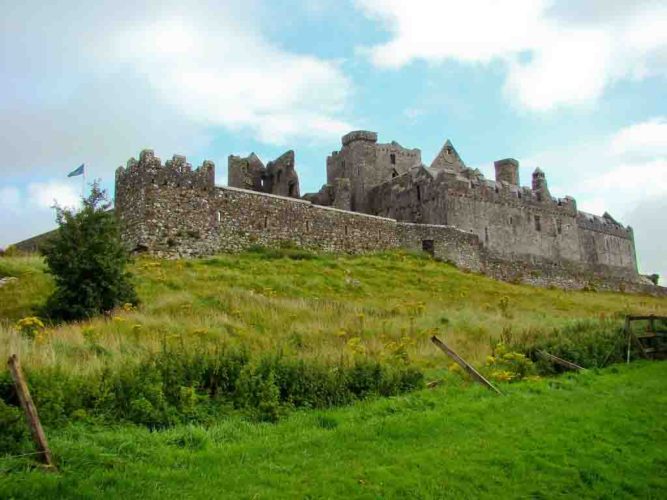 Rock of Cashel Opening Hours
The Rock of Cashel is open year-round on this schedule:
Mid-March to mid-June: 9:30 am. – 5:30 p.m.
Mid-June to mid-September: 9 a.m. – 7 p.m.
Mid-September to mid-October: 9 a.m. – 5:30 p.m.
Mid-October to mid-March: 9 a.m. – 4:30 p.m.

Note! The last admission of the day is 45 minutes before closing time.

Also, guided tours take about 45 minutes. There are public restrooms nearby.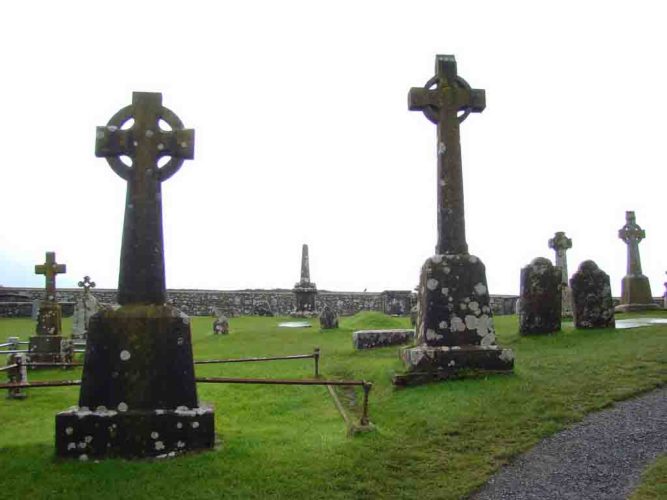 Admission Costs
Adults – 7 euros
Students (with a valid i.d.) – 3 euros
Seniors – 5 euros
Family – 17 euros
I've read that they do take credit cards.
Where to stay in Cashel and nearby
As usual in every Ireland town I've looked into, there are so many great choices of places to stay! I've listed some hotels, B&Bs, and inns that travelers regularly give great reviews.
They all seem to offer free Wifi and free parking, but please confirm before you book if those things are essential to you. (I say that with full empathy; when my family travels we really look forward to Wifi at the end of a long day.)
Hotels and B&Bs in Cashel:
Ashmore House B&B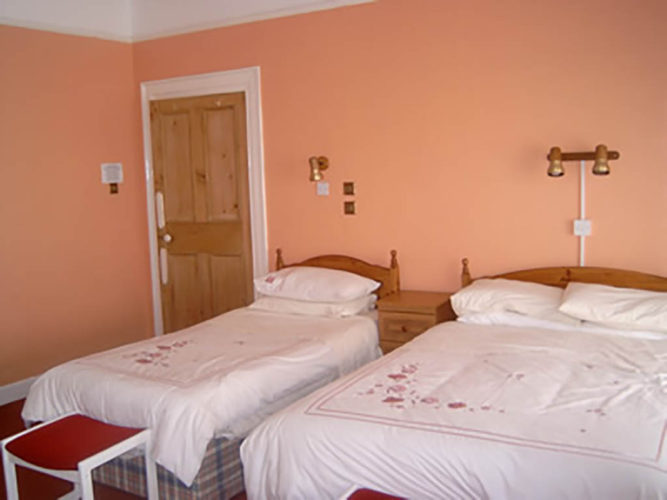 Ashmore House is within walking distance of the Rock of Cashel. It has five rooms and an award-winning garden. Decor is traditional and tasteful.
O'Brien's Cashel Lodge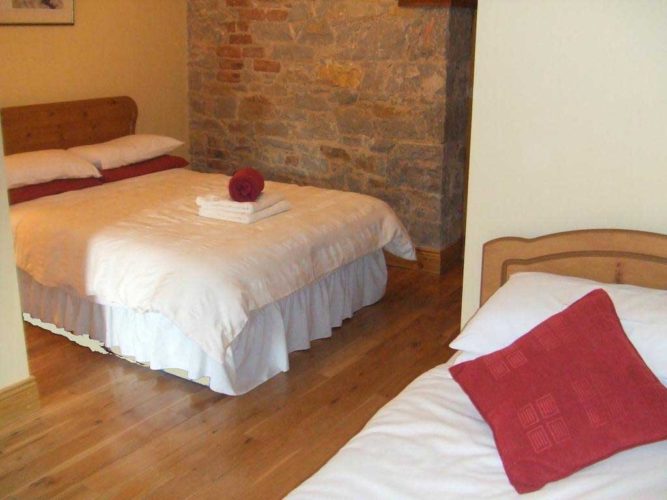 Located at the foot of the Rock of Cashel, O'Brien's Cashel Lodge is a 10-minute walk to town. Guests praise the hosts and the water pressure! Decor is traditional.
They serve breakfast, but the kitchen is self-catering so you're free to cook when you want.
Peggy O'Neill's B&B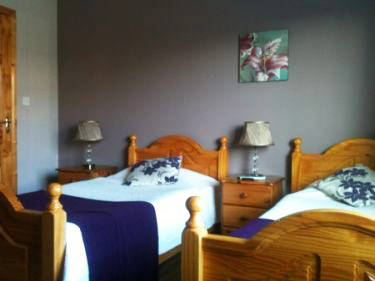 Peggy O'Neill's B&B is 15 minutes on foot to the Rock of Cashel. The property includes on-site parking for free, a deck where you can kick back, and a garden. When I checked it had a 9.4/10 rating out of over 400 reviews on Booking.com!
Rossroe Lodge B&B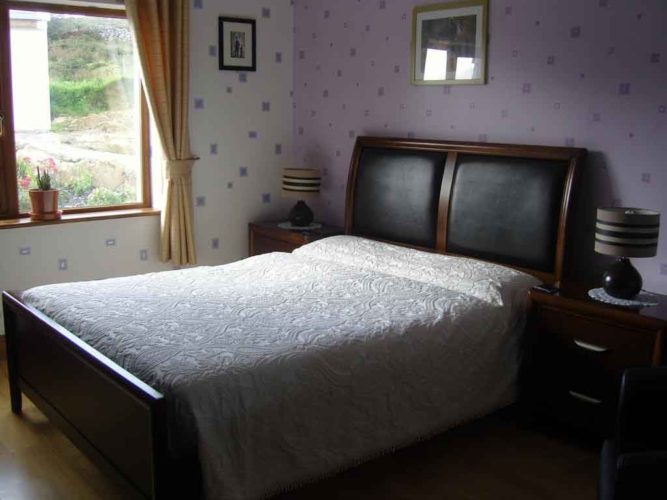 The Rossroe Lodge B&B has views of Cashel Bay and mountains. When I checked it had a 9.6/10 rating from over 115 reviews. Guests say the breakfast and service is great.
Hotels and B&Bs In/Near Tipperary:
Anner Hotel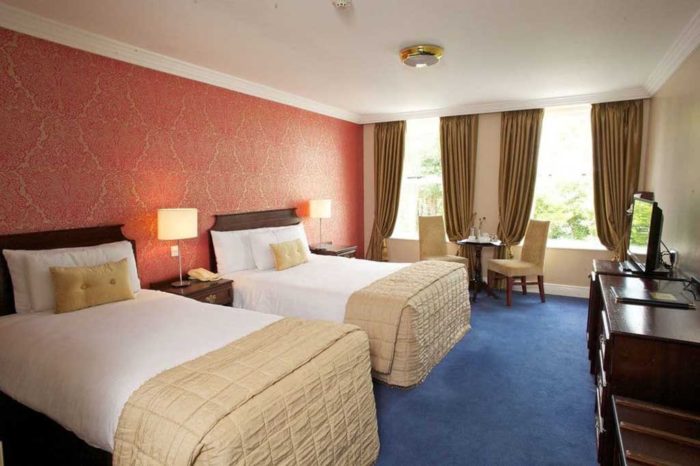 The Anner Hotel is a 4-star establishment that's 13.8 miles (22.2 km) from the Rock of Cashel, in Thurles. It has an indoor pool, restaurant, and bar. Decor is traditional, leaning towards ornate in some areas.
>>I also found this: If you stay in Tipperary and like horseback riding, you can go on a two-hour mountain trail ride that starts at around $63 per person.
Great National Ballykisteen Golf Hotel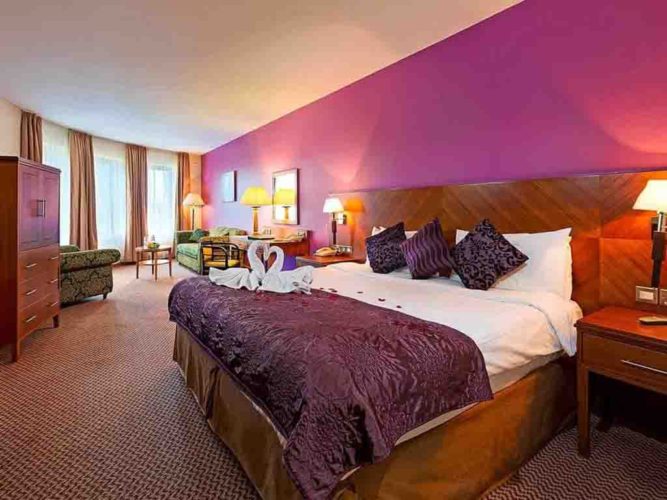 The Great National Ballykisteen Golf Hotel is a 40-room hotel in Limerick Junction. It's also about 18 miles (29 km) from Grange Stone Circle. The hotel includes a spa, onsite restaurant, babysitting services, and more. Decor is traditional and modern.
Horse and Jockey Hotel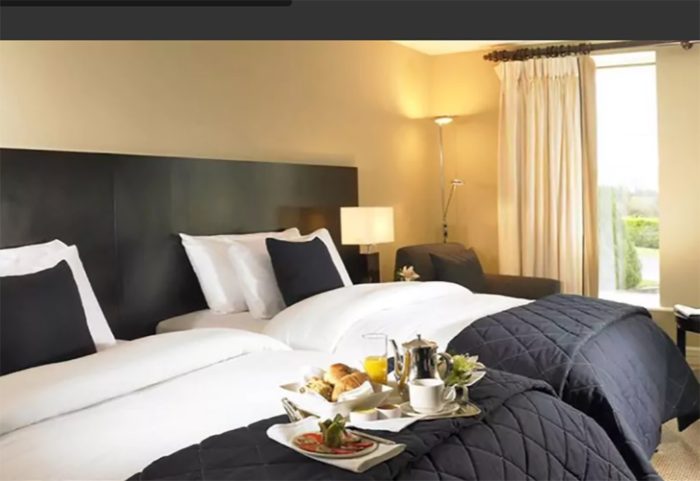 The four-star Horse and Jockey Hotel is also in Thurles, about 8.6 miles (13.8 km) from the Rock of Cashel. It has 65 rooms, a restaurant and bar, full-service spa, indoor pool, and more.
For more information
There are lots of pubs and restaurants. For recommendations, head to the Cashel Heritage Centre and Tourist Information Office on Main Street. The upper half of the building is painted bright yellow — you can't miss it!
The office is open:
March to October, every day from 9:30 a.m. – 5:30 p.m.
November to February, 5 days a week from 9:30 a.m. to 5:30 p.m.
---
And that's it! I'm getting my hiking boots on right now!
Have you been to the Rock of Cashel? Got questions? Let me know!