Of all the cities in the world, Paris is one that you can't help but want to return to, over and over again. Join me in taking a look at France's glory through these 25 movies set in Paris. The first batch is streaming on Netflix; the second is available only on DVD through Netflix.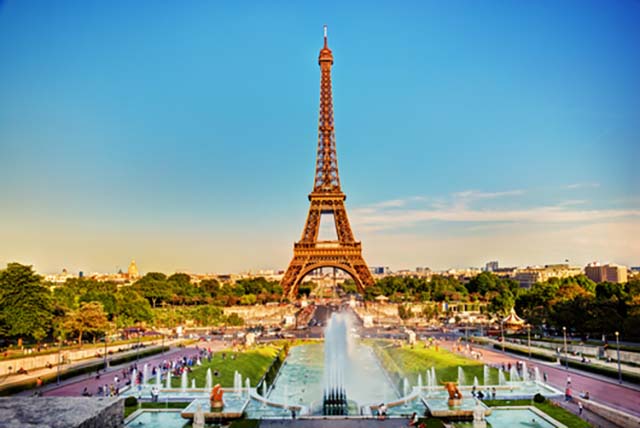 If you want more movies to watch, take a look at my lists of romantic Netflix movies set in New York City and streaming; and my list of 15 Netflix Romantic Movies Set in England Streaming.
Movies set in Paris that are streaming on Netflix:
Charade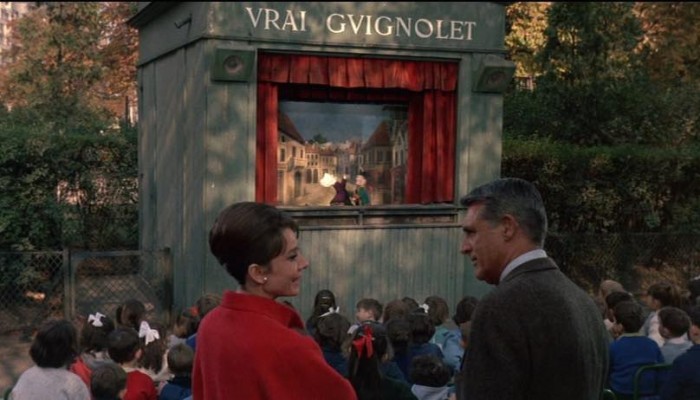 In this romantic thriller, Cary Grant plays a man named Peter who helps a rich woman (Audrey Hepburn) try to regain a fortune that her late husband left. Hepburn won an Academy Award for it; Grant was nominated for one.
>>Another way to get thousands of movies: Try Amazon Prime 30-Day Free Trial. I did it and then bought an annual subscription. I get free 2-day shipping on almost everything I buy with it, plus I get all these free books, streaming movies, and more. Very cool. 
Next movie on Netflix: The Bourne Identity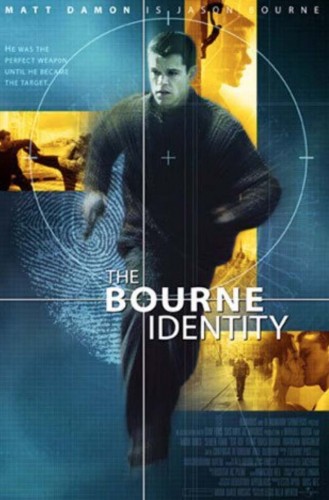 In this spy thriller, secret agent Jason Bourne (Matt Damon) must reconstruct his identity while suffering amnesia, in order to figure out why people are trying to kill him.
>> Read The Bourne Identity book!
---
>>Affiliate notice: I research every product I recommend, and I only give high marks to the very best. Some of the links here may be affiliate links, which means I may receive compensation from companies if you purchase from them. This is at no cost to you and it helps me keep this website running. So thanks for helping me! I independently own this site and the opinions expressed here are my own.<<
---
Yves Saint Laurent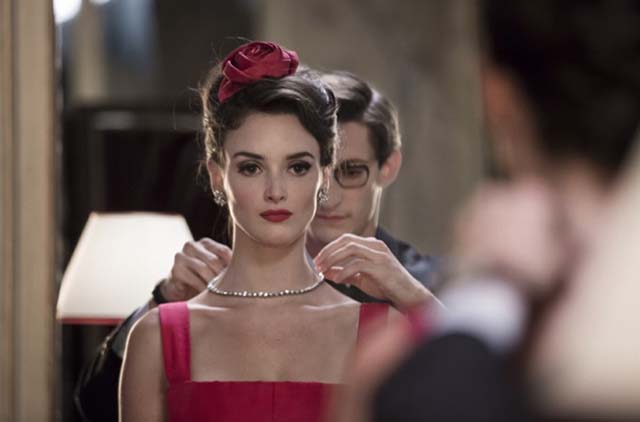 Released in 2014, this movie takes a look at the early years of French fashion designer Yves Saint Laurent's career. The story is told through his partner (in business and life), Pierre Bergé. It focuses on addiction and breakdown, so not a movie for the whole family.
>>Here's a cool book I found on Amazon: Paris Movie Walks. It has 10 guided tours you can go on to see where movies were shot.
Amelie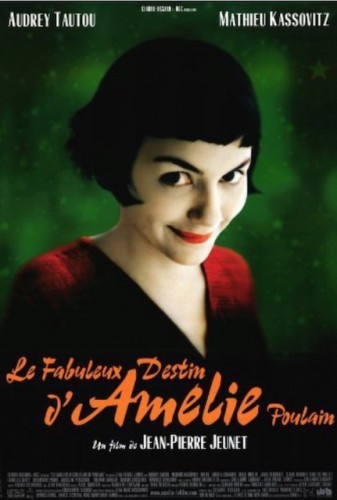 A quirky waitress (Audrey Tautou) with a rich imagination gets her kicks by doing acts of kindness for others. The shots of the city's rooftops are stunning. When you're in Paris, you can visit the Café des Deux Moulins, where she works. (Also see my article on the 7 prettiest streets in Paris.)
Sabrina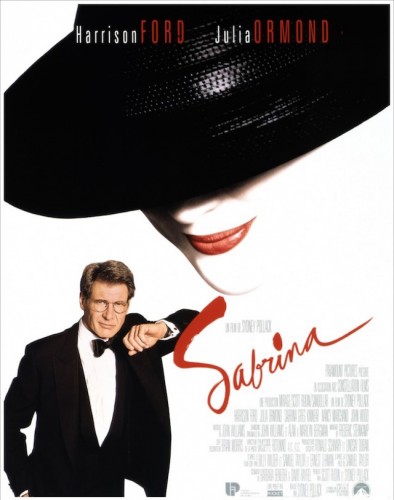 Harrison Ford and Greg Kinnear play charming brothers with very different personalities, both battling for the hand of a woman (Julia Ormond). This is the 1995 remake of an older film; partly set in Paris.
Animated movies set in Paris that are streaming on Netflix:
A Cat in Paris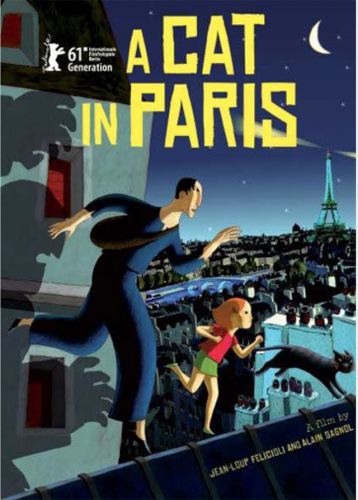 Nominated for an Academy Award, this animated film is about a cat that has to rescue a little girl who's been kidnapped by gangsters.
A Monster in Paris
Made in 2011, this animated movie is about an eclectic bunch that has to save a misunderstood monster from the Paris police chief. Family-friendly.
The Aristocats
Disney continues to enchant generations with this sweet, animated feline adventure set in Paris.
Anastasia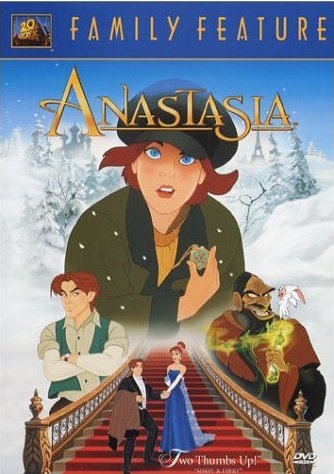 This animated film is adapted from the legend in which the Grand Duchess Anastasia Nikolaevna escaped Russia before her family was executed. Made in 1997 by Fox Animation Studios, it stars the voices of Meg Ryan and John Cusack.
The Hunchback of Notre Dame
This Disney animated movie follows the ups and downs of Paris' favorite belltower dweller. Based on the novel by Victor Hugo that was published in 1831. There is also a sequel movie on Netflix.
Other movies set in Paris that are available on DVD through Netflix, but aren't streaming:
Before Sunset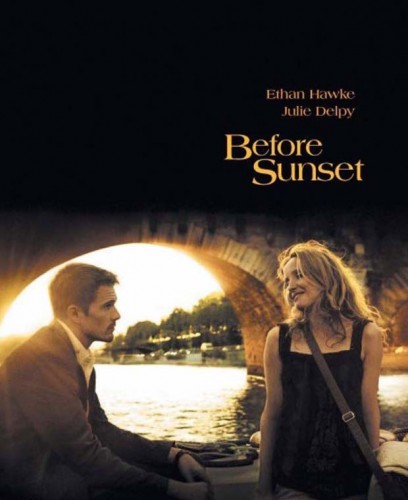 Ethan Hawke and Julie Delpy star in this intense romantic movie from 2004, about a couple that always seems to be just getting to know each other. Directed by Richard Linklater. It's part of a trilogy that includes the movies Before Midnight and Before Sunrise.
>>You can buy the whole trilogy of movies on DVD. And you can buy the screenplays of Before Sunrise and Before Sunset!
Two Days in Paris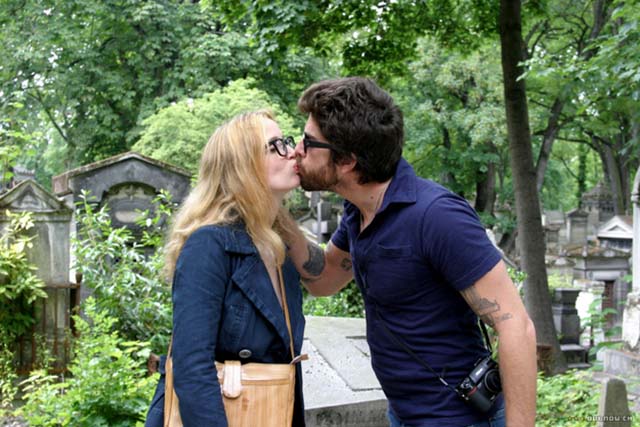 Julie Delpy and Adam Goldberg play a couple trying to bring spark back into their relationship by visiting the city. If you're looking for a breakup movie, this is it. 
An American in Paris
Gene Kelly stars as a young American man living in Paris, trying to find his way as an artist.
Paris, Je T'aime
Using an ensemble cast (including Juliette Binoche), this is actually 18 short films set in Paris' different arrondissements.
French Kiss
Kevin Kline and Meg Ryan star in this 1995 movie about a woman who flies to Paris, to find her fiancé whom she thinks is cheating on her. On the way she meets a crook, who tries to use her for his evil deeds.
Gigi
In this 1958 movie, a wealthy playboy and a woman training to be a courtesan become friends. Based on the novel by Colette. Stars include Maurice Chevalier and Leslie Caron.
Ratatouille
Disney and Pixar made this delightful animated film about a rat in Paris who has a passion for cooking.
Hugo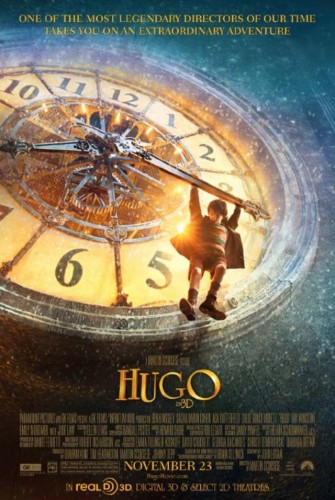 Made in 2011, this movie is set in 1930s Paris. It tells of an orphan living in the walls of a train station, who is involved in a mystery regarding an automaton and his late father. Directed by Martin Scorsese.
Les Miserables
Hugh Jackman, Anne Hathaway, and Russell Crowe star in this 2012 remake of the classic play, set in 19th-century France.
Moulin Rouge
A funky musical with Nicole Kidman and Ewan McGregor, in which a poet falls in love with a courtesan. Directed by Baz Luhrmann.
Funny Face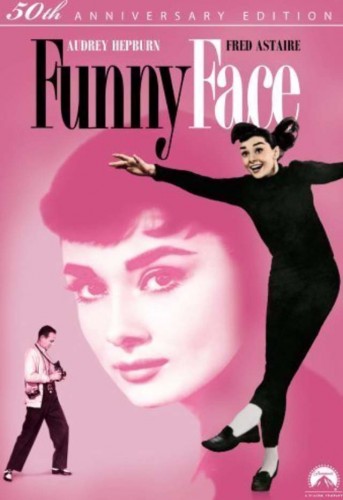 Audrey Hepburn and Fred Astaire star in this movie about a fun-loving young woman who gets "discovered" when a modeling photo shoot invades a bookstore. From 1957.
Inception
This sci-fi thriller features Leonardo Di Caprio playing a robber who steals corporate secrets using "dream-sharing" technology. Some of the dream sequences take place in Paris. Directed by Christopher Nolan.
The Man in the Iron Mask
Another movie (1998) starring Leonardo Di Caprio, as well as John Malkovich, Jeremy Irons, and Gerard Depardieu. In it, the violent King Louis XIV of France has a secret twin brother, whom he decides to keep imprisoned.
Madeline
Frances McDormand and Hatty Jones star in this animated movie about the girl from the children's book by the same name.
Midnight in Paris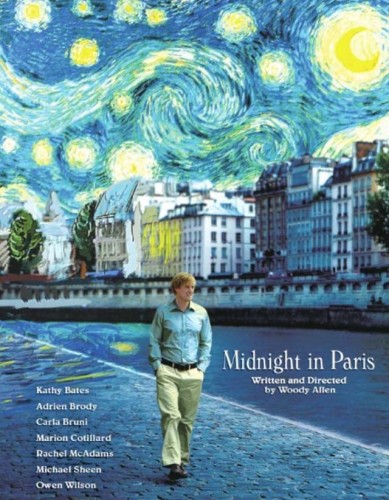 When a screenwriter (Owen Wilson) travels to Paris with his fiancee's (Rachel McAdams) family, he finds himself traveling back in time to the 1920s every night at midnight. Directed by Woody Allen.
Did I miss any good movies set in Paris? Leave a comment below and let me know.